In Vietnam, Saigon in the south and Hanoi in the north get plenty of buzz – and tourists. Travellers with perhaps a few more notches on their belts, however, head to the central region of this fascinating country. Travel specialist David Bowden has spent plenty of time in Vietnam and shares here his thoughts on visiting the central region and its hot spots, Da Nang, Hué, and Hoi An.
Maps can be deceptive. In planning a Vietnamese holiday, bear in mind that the country is bigger than it appears, as it's long and narrow, hugging an extensive coastline on the South China Sea and covering a distance of 1,650km from north to south. It takes two nights on a train to reach the capital Hanoi from Ho Chi Minh City (HCMC) – still commonly called Saigon locally – in the south. If you want to see places along the way, 10 days of getting on and off the train will barely cover the highlights. If you have limited time (less than a week) it's probably best to zone in on your choice of the north, the south, or the central region.
Da Nang (also spelled Danang) is the principal international gateway in Central Vietnam and it will appeal to residents of Malaysia as there are now direct flights from Kuala Lumpur on AirAsia. Upon arrival, visitors can branch out to discover Hoi An to the south, plus Lang Co and Hué in the north.
When I first visited the port city of Da Nang in the early 1990s, it was still rebuilding from the Vietnam War (known in Vietnam as the American War). Hué saw some of the fiercest battles of the war, and Da Nang's military airport was the base for some of the deadliest bombing missions.
There were no hotels of note, foreigners weren't able to travel outside Hanoi and Saigon without a special pass (I was accompanied to Da Nang by a travel agent representative who, I'm sure, was there to keep me on the straight and narrow rather than give me dining tips or sightseeing references along the way), and infrastructure was rudimentary, with the Reunification Express train that operated from Saigon to Hanoi more functional than comfortable.
Advance the clock two decades, and Da Nang is now a vibrant city and definitely going places. Resorts sporting the names of global brands line China Beach, a lashing of sand which stretches from Da Nang southward to Hoi An.
Three championship golf courses lure golfers, and there's a general sense of optimism that the international airport will bring in hordes of happy tourists. And why not? The coastal strip offers natural and cultural tourism, plus plentiful opportunities for relaxing in the sun. Tourists have already discovered Hoi An, so if your guidebook suggests you'll find it to be a quaint and tranquil fishing village, it's time update to a new guidebook or app.
Dynamic Da Nang
Da Nang is Vietnam's fourth-largest urbanised area, with just over a million residents in the city proper alone. The city is located on the Han River, which is traversed by several bridges including some more recent additions; the Thuận Phước Bridge opened in 2009 and is Vietnam's longest suspension bridge, while another, the Cầu Rồng, is shaped like a dragon and breathes flames. (No joke: it happens every Saturday and Sunday night at 9pm!)
While the Vietnamese are nominally Buddhist, earlier kingdoms were Hindu, and the Kingdom of Champa centred on Da Nang has many Cham ruins with the Cham Museum the place for history buffs.
China Beach is home to several large resorts and golf courses. Golfers can choose to play nearby golf courses designed by Colin Montgomerie, Nick Faldo and Greg Norman. Da Nang, meanwhile, is a city of cafés, and the local immerser-styled coffee is rich, tasty, and cheap. In the evening, head down to the riverside area with its vibrant bar scene.
Northward Bound, Southward Bound
Head a little north to Laguna Lang Co, Vietnam's first integrated resort complex on a private bay along a stretch of sand that will make you believe you've discovered paradise. It's possible to play a round of golf on the international-standard championship golf course here. Train buffs should ride the train (three hours) that hugs the seaside cliffs around the base of the Hai Van Pass on one of the sectors to or from the imperial city of Hué. Then, hire someone to drive you over the pass which was a very strategic thoroughfare during the war. The views are quite spectacular and the wartime fortifications, places of interest.
Hué was once home to Vietnam's Emperors, with Bao Dai the last to abdicate in 1945. It is home to four separate 'cities' and royal residences, with the Imperial City including the Citadel in the city centre. Mausoleums of the former emperors are scattered around the city and are popular places for the locals to pay their respects.
Hoi An's historic port is only about 30 minutes away and is enjoyably rich in heritage. Imagine Melaka without the heat, hassle, and traffic and you have Hoi An. Its pedestrian-only historic streets make for a refreshing change from the motorcycle-dominated traffic madness of many Vietnamese cities. Visit the French Quarter, Japanese Bridge, Fukkien Assembly Hall, the river, or the local market or simply cycle down to the beach to admire traditional, half-spherical rattan fishing boats.
Spice of Life
While Vietnamese food isn't as spicy as most Asian cuisines, Da Nang's cuisine is up there with Vietnam's spiciest. The staple Vietnamese dish is noodle soup, or pho, which is served everywhere and makes an affordable meal. In line with most things in the country, alcoholic beverages are cheaper than Malaysia. The beer they drink around here is Beer Larue which is served as local (blue label) or export (red label), with diehard local drinkers convinced the latter is better.
Being the imperial city that it is, the cuisine in Hué is considered the most sophisticated in the country. While this distinction may be lost on many foreigners, trust the locals when they tell you there are 3,000 dishes in Vietnam – with 2,000 of them originating in Hué.
French colonialism is evident in many parts of Vietnam (what the French referred to as Indochina), but particularly so in Hué. Many colonial buildings remain, as do French gourmet delights such as great coffee and bread in the form of baguettes.
Stay in Style
Da Nang is undergoing a tourism explosion and the Grand Mercure Da Nang is perfectly located for those who want to explore the city. It features 276 rooms, a 25m pool and the soothing Karma Spa. For a resort-style stay, the 187-room Pullman Da Nang Beach Resort is situated along historic China Beach. Stay in Hoi An at the Hotel Mercure Hoi An Royal. My hotel of choice in Hué is La Residence which is a charming colonial residence situated on the banks of the Perfume River. Its plush Le Governeur's Bar is the place to sip cool cocktails such as the imaginably named, Good Morning Hué. In Laguna, stay at the Banyan Tree or the Angsana.
Travel file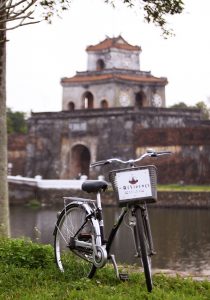 Getting there: AirAsia flies direct from Kuala Lumpur to Da Nang.
Getting about: Da Nang is flat so walking is relatively easy (if you dismiss the traffic), and there are many things to see on the streets. As an alternative, catch taxis (city to China Beach takes 15 minutes) or hire a motorbike without the fuss and hassle you get in many other tourist places. For places further afield, catch local buses, ride the train, or hire a car and driver.
Visas: Citizens from most countries require a visit to enter Vietnam and these can be completed via the internet at myvietnamvisa.com or obtained from the embassy in Kuala Lumpur before travel. Internet visas are issued upon arrival, but there can be queues, so best to be armed with your visa ahead of time.
Travel tips: Most rain falls from November to January, although the Hai Van Pass to the north of Da Nang is a barrier that prevents most rain moving south. Vietnamese drive on the opposite side of the road to Malaysians, so be wary crossing the road. Da Nang is one hour behind Malaysian time, and the sun rises and sets earlier than in Malaysia. Motorcycle snatch thieves are more common than they should be, so be extra careful of your belongings when on the streets.
David Bowden is the author an informative book Enchanting Vietnam published by John Beaufoy of the United Kingdom. This 80-page full colour book is distributed worldwide and is an ideal reference or souvenir for anyone travelling to Vietnam.
This article was originally published in The Expat magazine (April 2017) which is available online or in print via a free subscription.