Despite a façade that suggested little change in the decade since she last visited, Paula Tan soon learned that Bandung had undergone a quiet evolution, and today offers more to the curious traveller than ever before.
The bump of wheels hitting the runway of Bandung International Airport woke me up to a scene seemingly frozen in time. After an absence of nearly a decade, I was back under very different circumstances, and this time, the agenda allowed for some leisure. As far as I could see, nothing had changed, and I remained convinced of this right through immigration and baggage collection – until our cab rolled into the city, and I found a great deal actually had.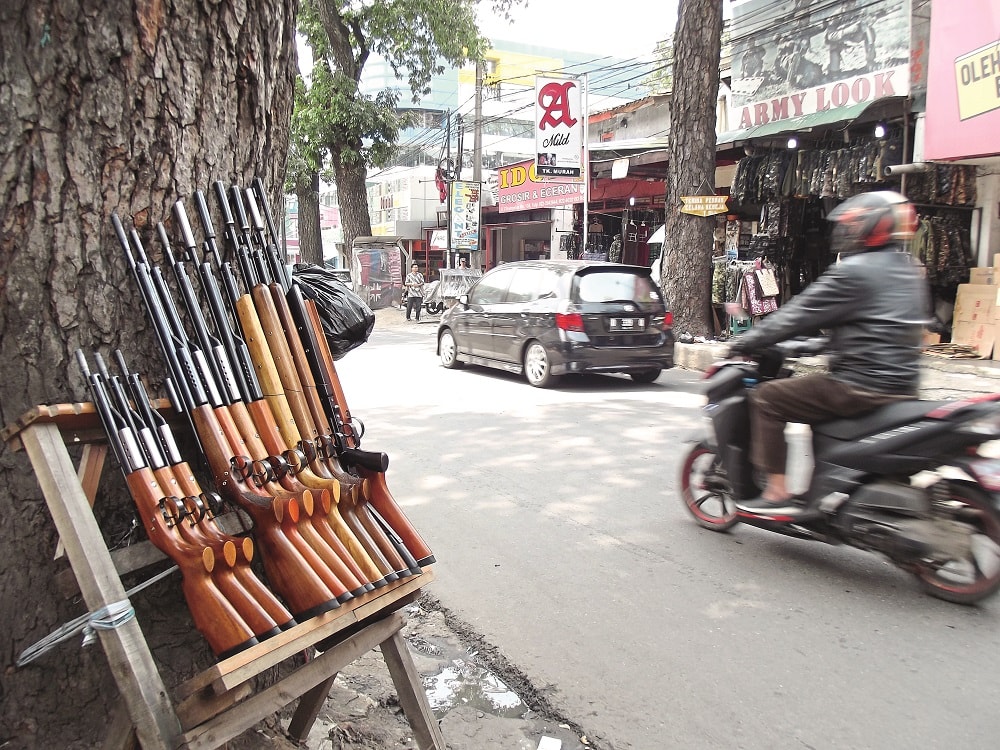 Déjà vu aside, a satisfying local brunch of cheese noodles and susu soda – a novel blend of soda water and sweetened condensed milk – put us in the mood to explore. Recalling the city to be largely popular for its shopping factory outlets, we really didn't expect much; but over the days to come, we were to discover far more than shopping alone.
Bandung is Indonesia's third-largest city, with an appeal attributed to its geography and cool climate. Surrounded by hills that provide a natural defence, it was once considered for a capital by Indonesia's colonial rulers, the Dutch, who planned to relocate the nation's capital.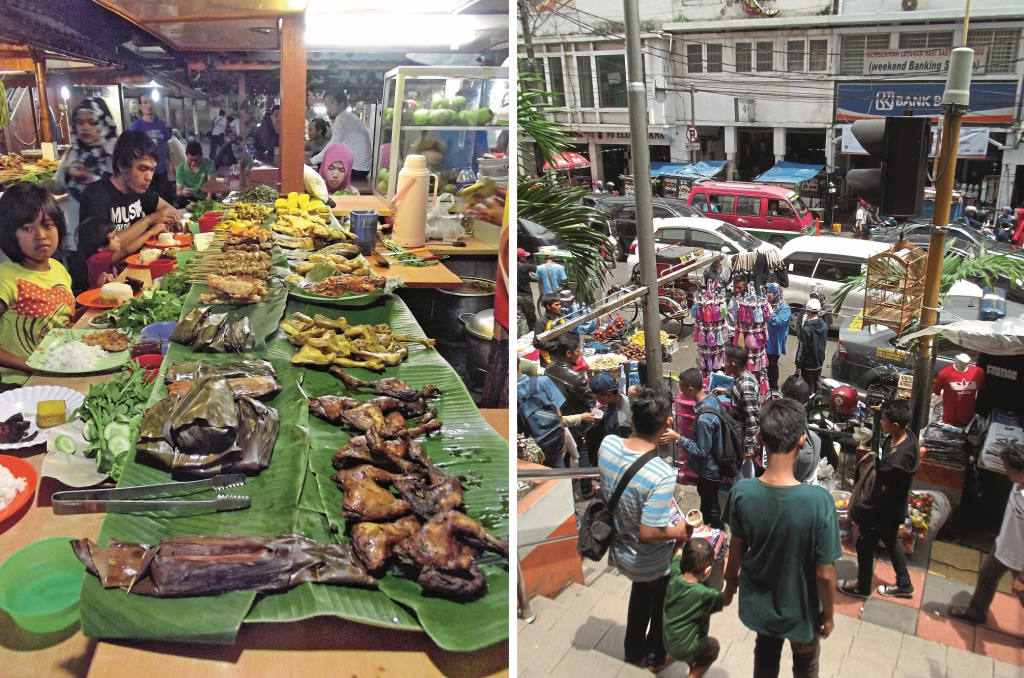 While the city was ultimately never accorded that privilege, it was nevertheless a colonial resort in the early 1900s, with European-style cafés, restaurants, and hotels, an architectural style that drew its early tourists and the reason why Bandung has been dubbed the Paris of Java, a thin slice of Europe in the east. Many buildings remain that still capture that old world charm, and art deco structures remain across the city.
A cool respite
Just 150 kilometres from Jakarta, and a popular getaway for city slickers seeking bargains and a cool respite, Bandung is fast growing into a tourist destination of the 21st century. Be it for food, shopping, or mountain vistas, visitors come from around the world to experience the many facets of this highland retreat.
The mere mention of Bandung automatically calls to mind a shopping spree, but this time, we had plans to venture further afield. As our driver veered onto the highway, leaving city limits behind, an adventure began that showed us Bandung is undoubtedly about a lot more than retail therapy.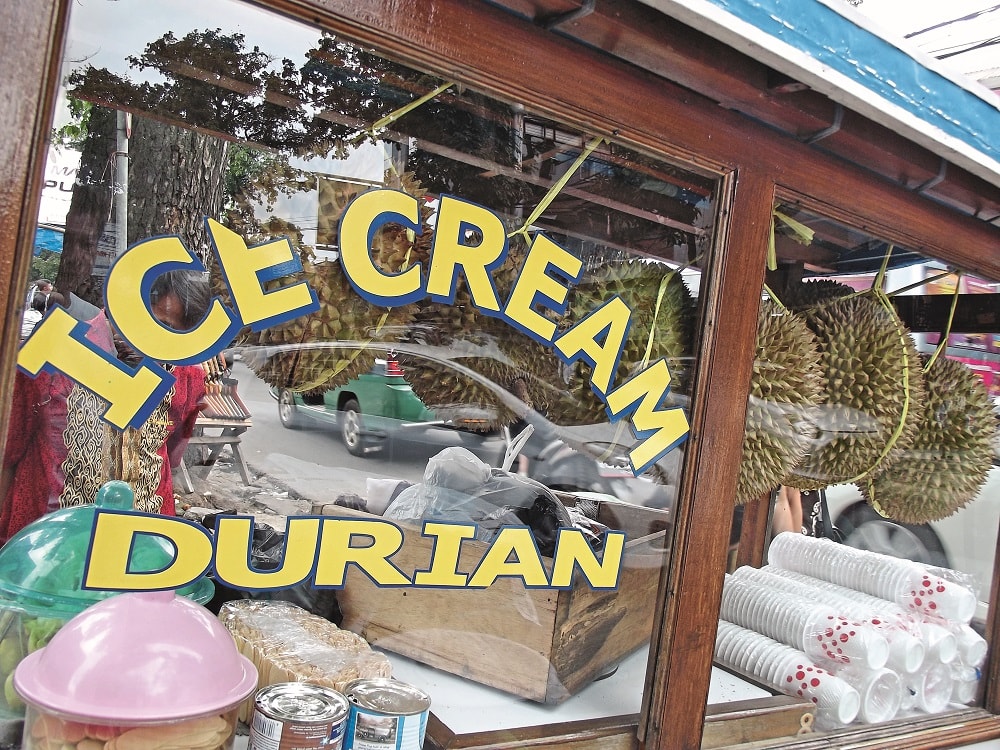 Bumping through the small towns along the way, traditional life began to surface as the landscape became increasingly more rural. From horse-drawn carts to hand-carved furniture, a forgotten way of life clicked into focus once more as we climbed higher into the hills towards Ciwidey, feeling the air grow cooler.
Along a quiet country road, our driver pulled into a forest clearing full of towering pines and vendors plying fat strawberries and blueberries. Despite the temptation, we were, however, advised to save ourselves for the berry farm we would visit on the way back – but in hindsight, I'd say buy the berries from the vendors as they were reasonably priced and of a better quality than those we found at the farm.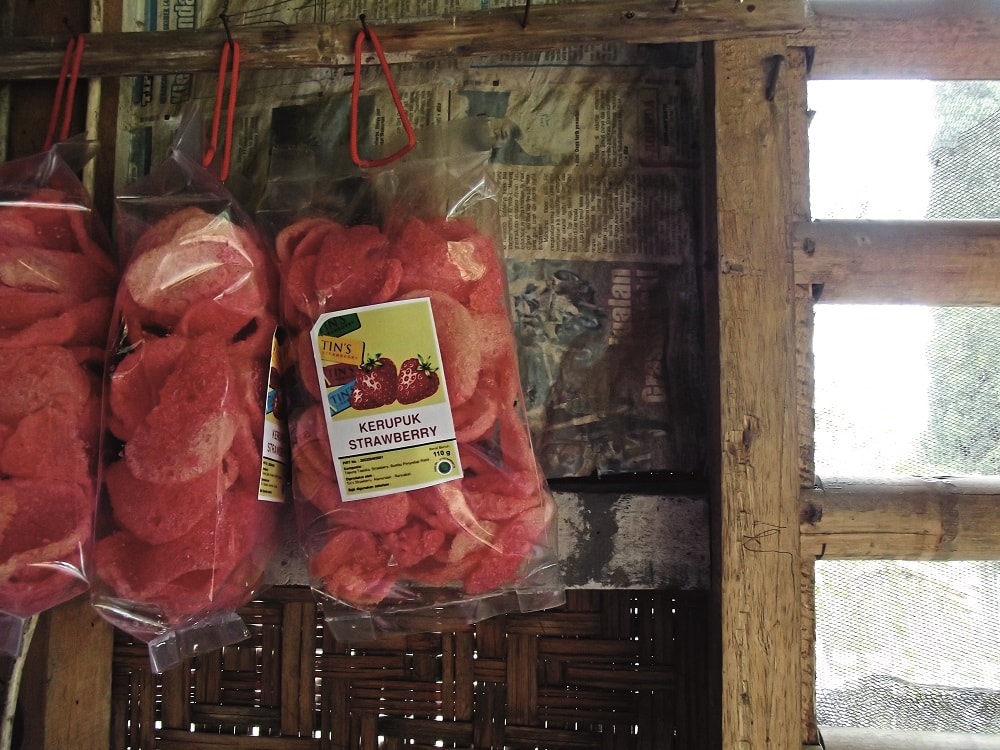 Having reluctantly extricated ourselves from the juicy fruit, we headed a little further up the road where the famed Kawah Putih volcanic lake resides. Having seen photos of this radioactive blue body of water in magazines, I was sceptical that the shade would do them justice, but I was wrong.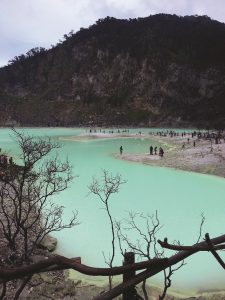 On panting our way to the end of a long walkway, we had our first sight of the Kawah Putih crater in all its magnificence, sprawled across an entire valley and glowing in the strangest share of fluorescent turquoise, like a milky opal.
After the awe subsided, I rushed down to its banks and began clicking away at its steaming waters and clay-like beach.
Formed after the eruption of Mount Patuha in the 10th century, Kawah Putih lies some 2,400 meters above sea level and was once believed to be a home to spirits in eras past, as birds would die within its vicinity.
Later – and more accurately – attributed to its sulphuric fumes, this phenomenon became accepted as part of its powerful character, belied by subtly changing shades of blue. On downloading the photos later, I found that they did indeed capture that magical blue, a prized memento of that day up in the hills.
Eating and drinking in Bandung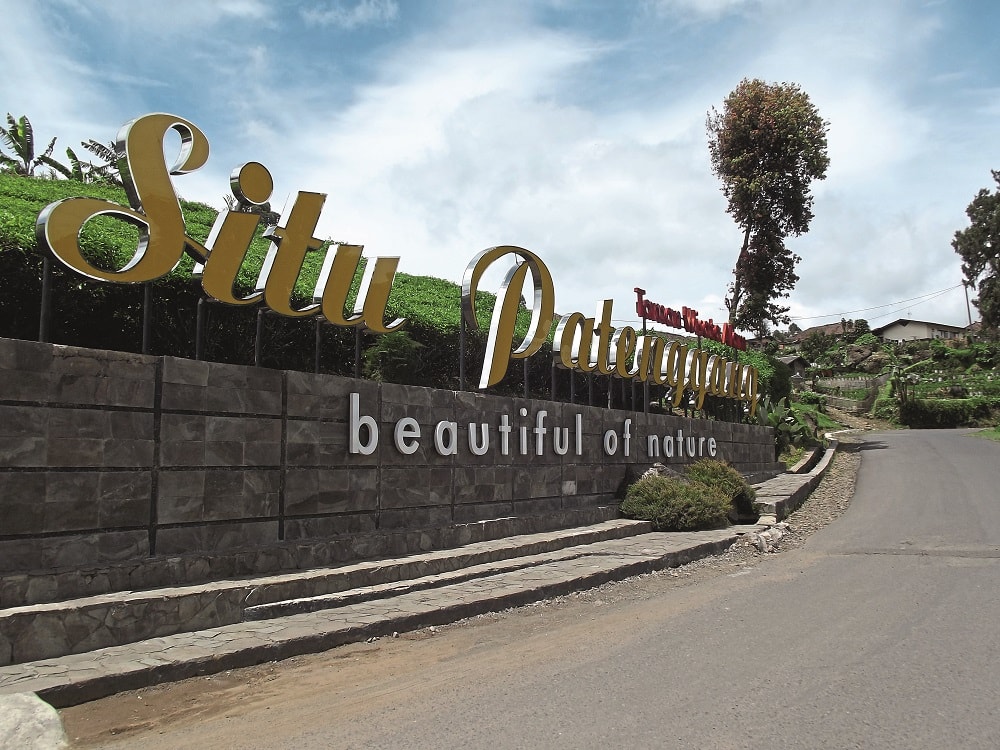 Still in the thrall of Kawah Putih, we later stopped over at Situ Patenggang, another lake linked to the legend of the king Ki Santang and his lover, Dewi Rengganis, who found each other again near a rock by the lake after years of wartime separation.
Wild and beautiful, Situ Patenggang exuded an entirely different vibe, yet somehow paled in comparison to the mist-shrouded mystique of our earlier destination.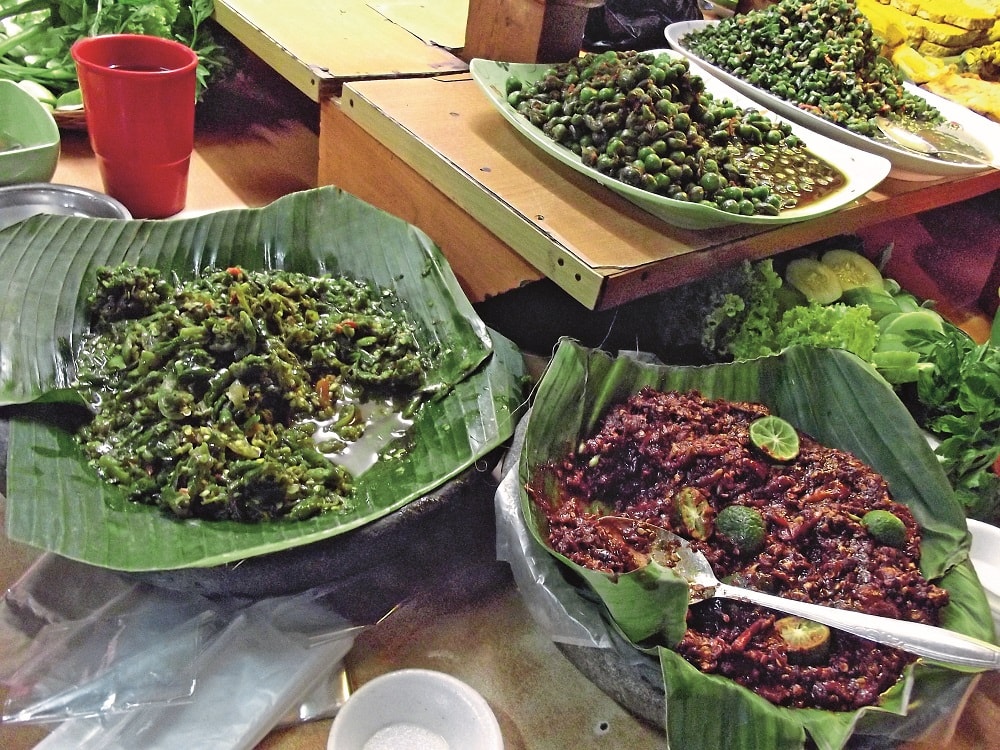 Leaving it behind, we trundled along the route into a dazzling sea of green – a tea plantation on the rolling slopes of Cimanggu. Part of the Nusantara VII Kebun Rancabali group, the emerald carpet occasionally gave way to natural rock platforms, on which groups of schoolchildren perched, armed with selfie sticks.
While my other half obliged by taking touristy shots of the driver, who was still new to the field, I meandered into the leafy green sea, mesmerised at how I could almost not see the end of it.
And the scent, that earthy, bittersweet scent of tea leaves is something that will take me back to that moment on the slopes every time a fresh pot of tea is brewed.
Backtracking towards the highway, we visited a small strawberry farm, where the packs of keropok strawberi, or bright pink strawberry crackers hanging from the wall raised my eyebrows. We wandered around picking and eating berries for a while, but they were not particularly sweet. A useful piece of information for visitors is that you only need to pay for fruit you take away, not that which you eat on the premises – no matter how much.
Our day tour had mentioned a lunch stopover, but we'd imagined it to be some unimaginative basic buffet with hordes of tourists. We were pleasantly surprised when our driver pulled up at the quiet Sung Gawir Resto, entirely built of bamboo and handwoven roofs with an intricate design.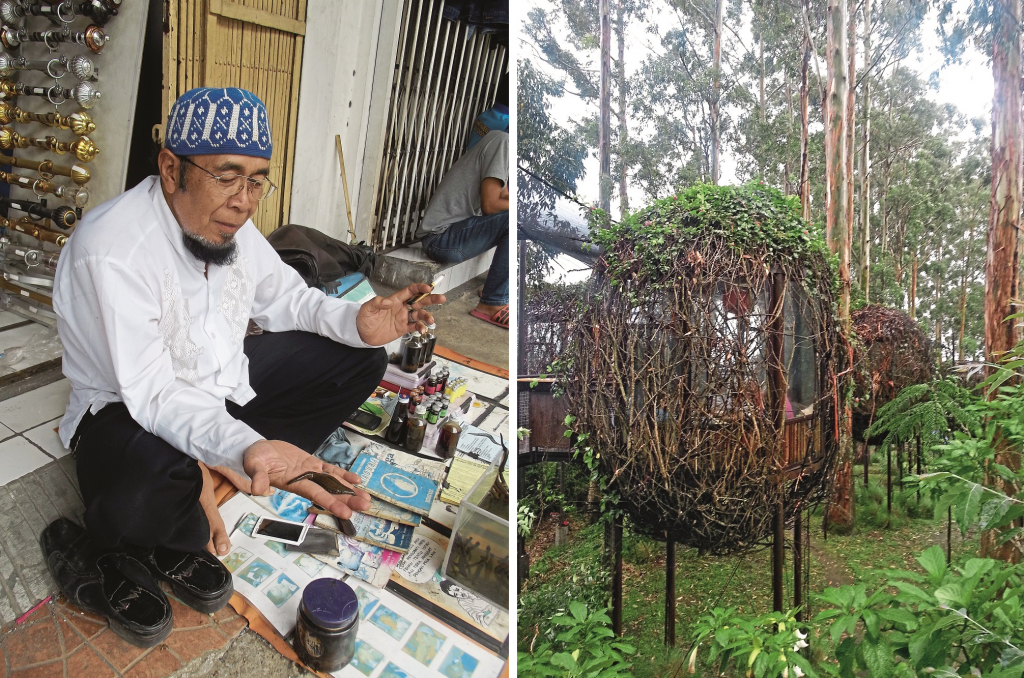 A little apprehensive when I learnt the restaurant served Sunda food, my phobia of heartburn was instantly quelled when the first dish arrived. My nasi belang, which translates to 'striped rice' was an indulgent – and non-spicy – treat with its aromatic portion of fried egg and tempe. We also had chicken wrapped in pandan leaves, along with some satay (sate in Indonesia) served with just about the best peanut sauce in creation and finally topped off the meal with Mayangsari cheese and banana bolen, which I'd brought along.
Now several kilograms heavier, we headed for Cibadayut, closer to the city where leather shoes are handmade, but found the area to be extremely commercial with not a hint of the craftsmen and old-school handiwork I'd imagined. Needless to stay, we did not stay long and were soon on our way to Dusun Bambu in Lembang.
Family time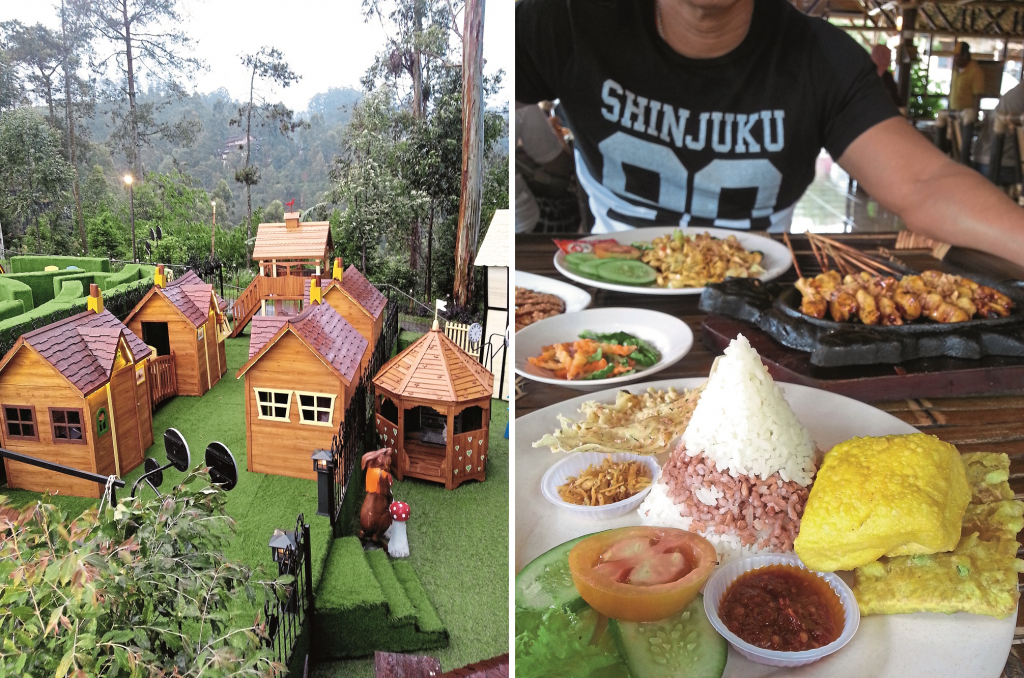 Dusun Bambu is a 'family leisure park' based on life's seven E's – ecology, education, economics, ethnology (culture), ethics, esthetics (perhaps an alternate spelling), and entertainment. Featuring a beautiful, traditional-style food court where local favourites are served, West Java's first eco-tourist park provides the option to dine in, or book yourself a 'nest', a cosy round room made to look like the nest of a weaver bird, and hanging about 12 feet off the ground.
The grounds also featured a play area for children with little houses, and the fact that each house had its own live white rabbits made it all the more captivating. An all-rounder of the most attractive kind, Dusun Bambu is also a resort with its own villas, campsites, and bike trails. If you're traveling with family, this is where you'll find something for everyone.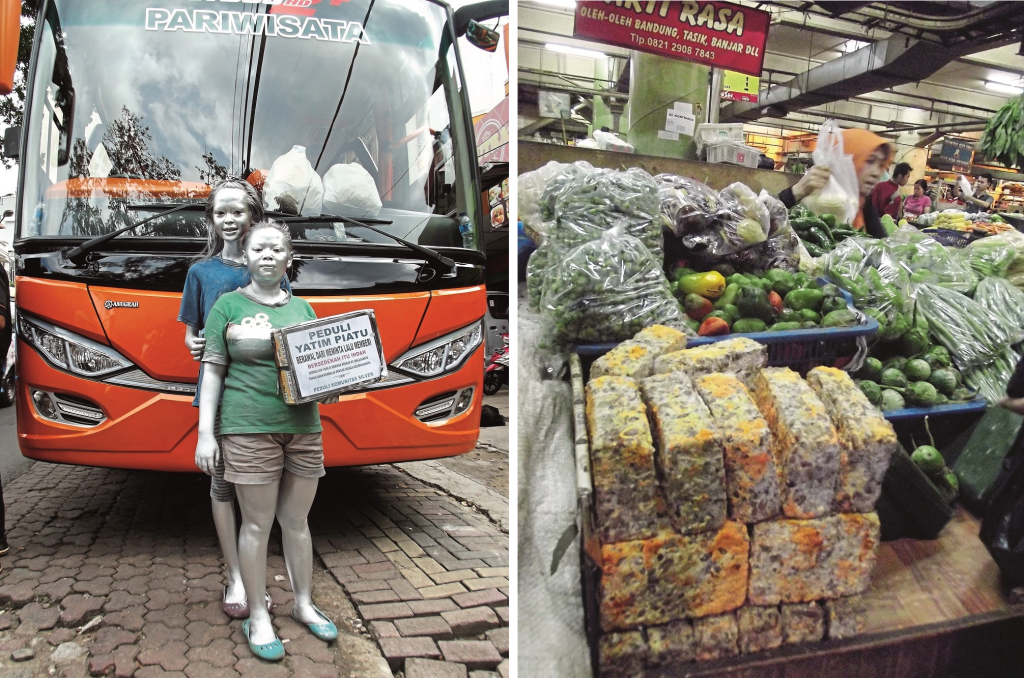 We only had four days in Bandung, so shopping was inevitably a part of the agenda. From my all-time favourite, Rumah Mode, with its own restaurant and spa, to the flashy Cihampelas Walk and highstreet shops, we visited them all. Mission 'shop-till-you-drop' accomplished, there was that glorious, hour-long footrub at Zen Spa for a mere RM16 per person.
As I drifted away under the therapist's soothing hands, the aches of my travels began to fade, but I knew the old Bandung magic never would.
This article was originally published in The Expat magazine (April 2017) which is available online or in print via a free subscription.