Penang is Malaysia's island melting pot, a rich and varied palette of cultural colours spanning the recent centuries. As Petra O'Neill discovers first-hand, to her great delight, the influence of the Peranakans in Penang simply cannot be overstated.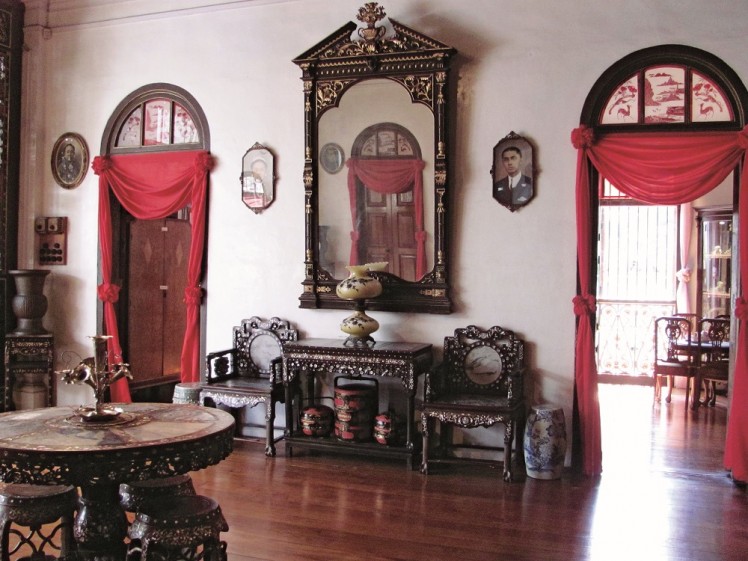 There is still so much to see," exclaimed Pearly Kee, as I showed obvious signs of fading fast. It was close to midnight, and on meeting her, I found myself being whisked away on a private tour of George Town to explore its Peranakan influences from an insider's perspective.
Across George Town, there is no shortage of antique and curio stores, where among dusty teacups and fading photos of solemn Chinese couples, I had often sighted brightly coloured containers decorated with peonies and phoenix patterns that are Peranakan, and while the Penang Museum informatively displays Penang's cultural heritage, the Peranakan influence was something I knew little about.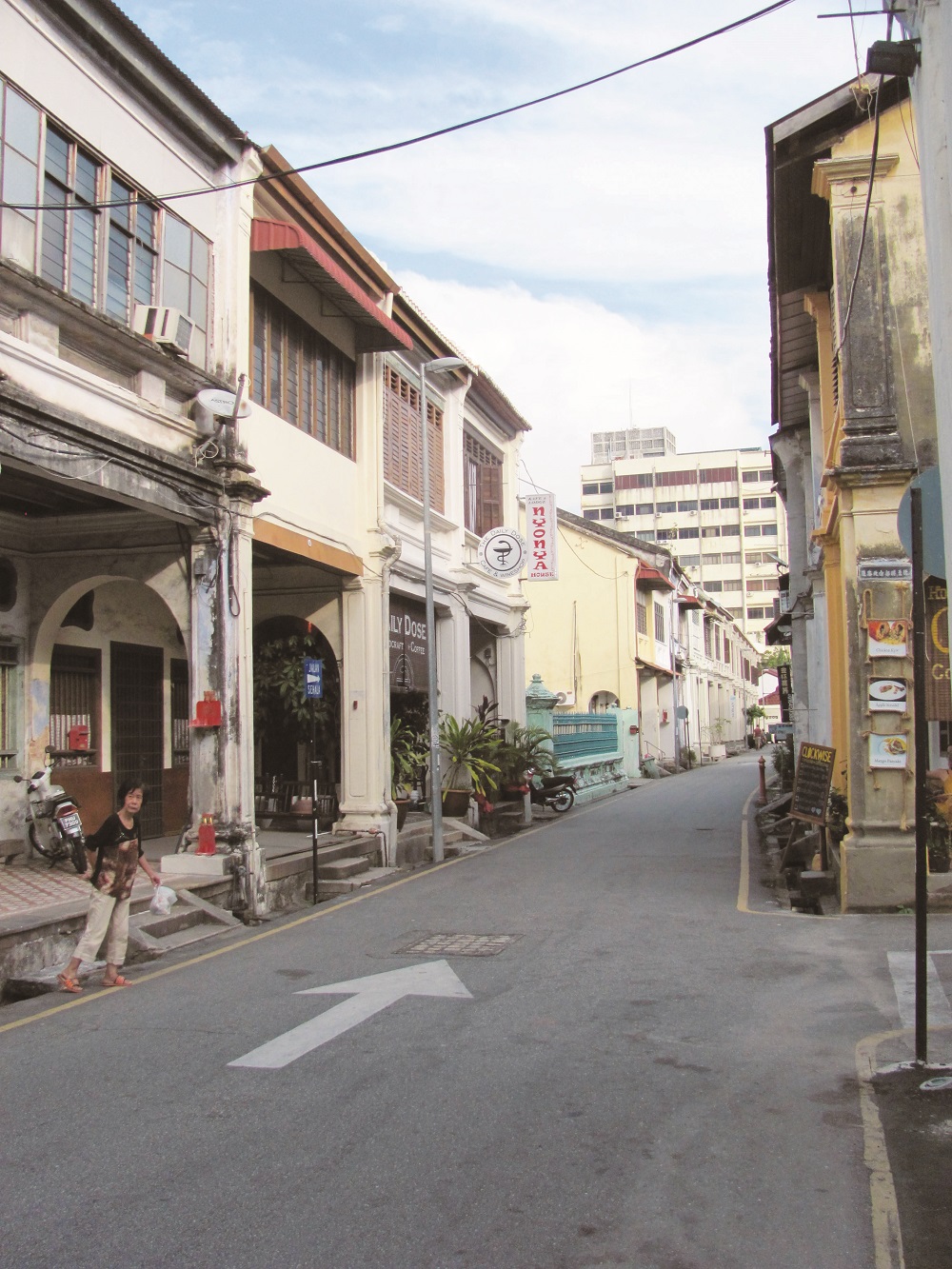 Peranakans, also referred to as Straits Chinese or Baba Nyonya, are descendants of mainly Hokkien Chinese traders from Fujian Province who settled in Melaka and coastal areas of Java and Sumatra as early as the 15th century. They married into local Southeast Asian communities, as Chinese women were then not legally able to leave China.
During the 19th century, many Peranakans relocated to the thriving ports of Penang and Singapore during British colonial expansion. Highly enterprising, many were successful as merchants involved in the spice trade, rubber, and tin mining, or as professionals.
They were also cosmopolitan, drawing upon Chinese, Southeast Asian, and European influences to create a unique cultural aesthetic distinct from the southern Chinese immigrants who migrated to Southeast Asia in the 19th and early 20th centuries.
Those with sufficient wealth built palatial mansions during the late 1800s and early 1900s, some of which remain along Millionaire's Row, as Northam Road (now Jalan Sultan Ahmed Shah) was known alongside the mansions of wealthy English and Chinese families.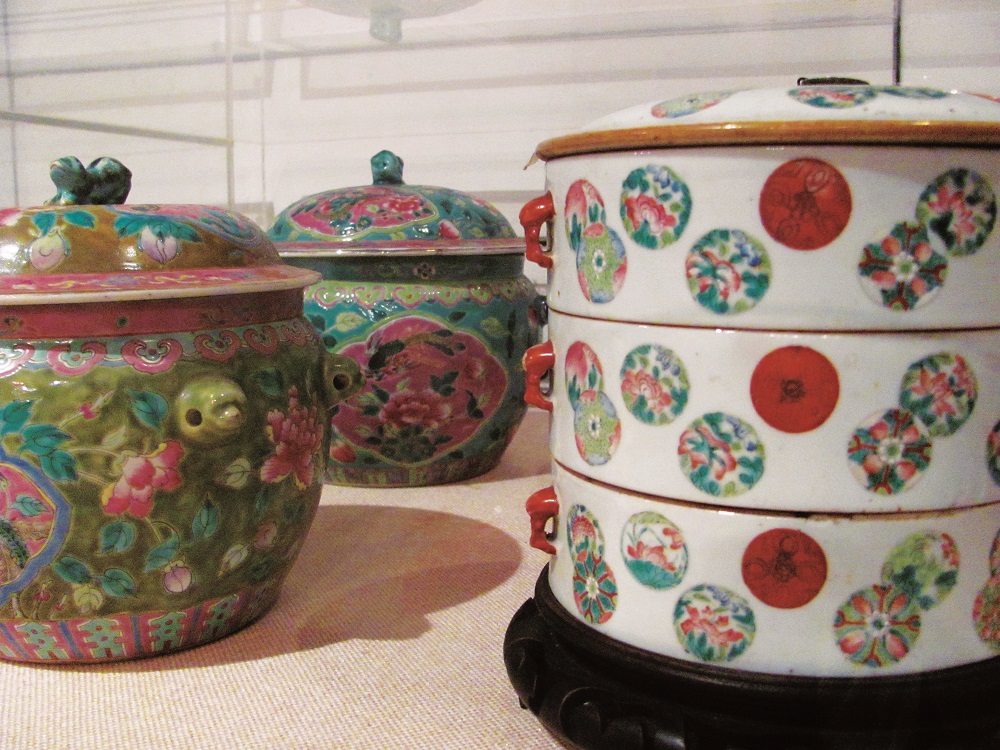 A visit to the Peranakan Mansion
To learn more about the opulent lifestyle of wealthy Peranakans, I visited the Pinang Peranakan Mansion, a lavishly restored 1894 mansion of eclectic design and architecture. The Hai Kee Chan, or Sea Remembrance Store, once served as the residence and office of Kapitan Cina Chung Keng Kwee, a Hakka tin miner, and, though not Peranakan, his Chinese courtyard house is nevertheless typical of an affluent Peranakan.
The sumptuous interiors replicate those of a Peranakan home incorporating Chinese carved panels, European chandeliers, English floor tiles, Scottish wrought iron, and locally carved mother of pearl-inlaid furniture as well as over 1,000 pieces of Peranakan antiques and collectibles, all painstakingly collected by the owner, Peter Soon.
Museum Director Lillian Tong, dressed in a lovely traditional embroidered kebaya, led me to view the elaborate jewellery collection and cabinets displaying exuberantly coloured nyonya wares decorated with Chinese motifs and glazed in famille rose, with yellows, greens, and turquoises.
The Straits Collection in Georgetown
While in George Town, I also caught up with Alison Fraser, who, together with Narelle McMurtrie, offers unique accommodation at the Straits Collection. Filled with a diverse collection of shabby chic furniture and brightly coloured exotic fabrics, patterned tiles, and wooden shutters, the décor reflects its Peranakan influence. The Straits Collection comprises restored shophouses in George Town's historic Armenian Street, where Peranakan families would once have lived and worked.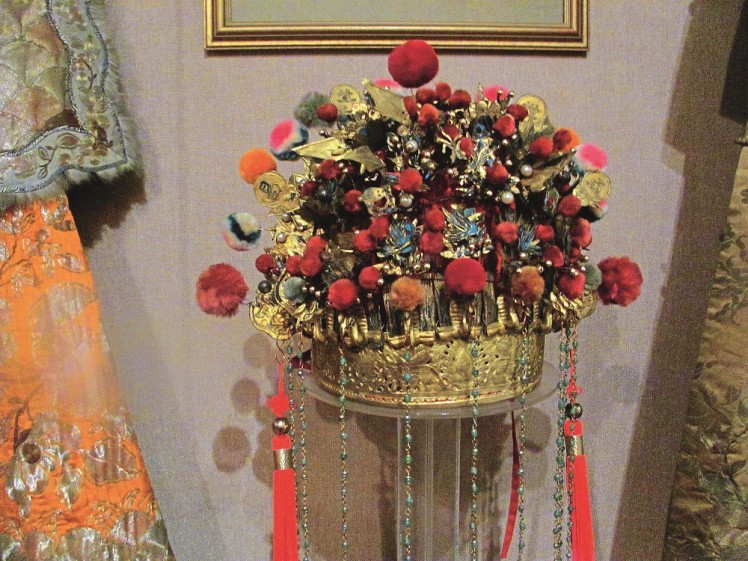 The shophouses combine architectural influences from the West and East, including plaster columns and decorative plasters of flowers, fruits, and mythical figures, Dutch tiles, and Mediterranean roof tiles.
Mr Tan's traditional Nyonya shoe shop
At number 4 is Mr Tan's shoe shop, where traditional Nyonya beaded shoes are still handcrafted. Internationally acclaimed shoe designer Jimmy Choo, a Peranakan, lived here in nearby Jalan Hutton and came from a family of shoemakers.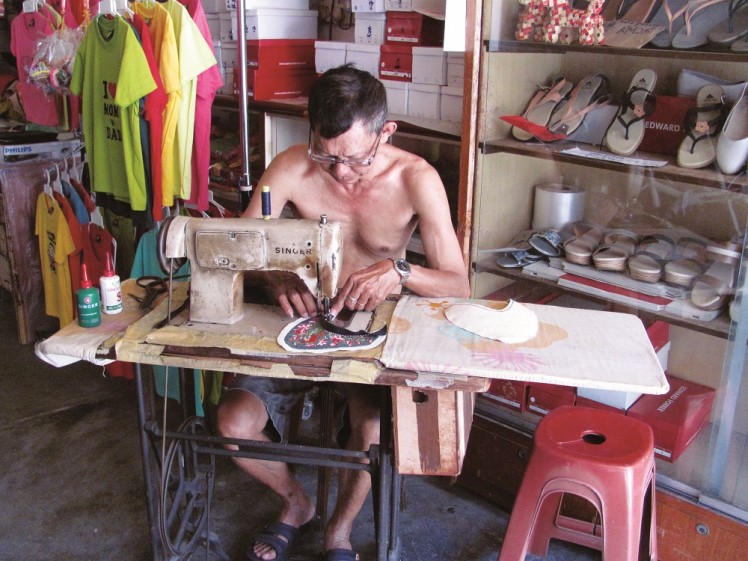 China House ventures
Narelle's latest venture is China House, a converted warehouse space that houses restaurants, cafés, art galleries, and a performance space. A renowned foodie, Narelle's passion – apart from the animal shelter she runs for abandoned dogs and cats – is to provide outstanding cuisine that draws its inspiration from the rich cultural heritage of Malaysia.
Peranakan cuisine, also referred to as Nyonya, is tangy, aromatic, spicy, and herbal due to a depth of strong flavours and aromas derived from Malay and Fujian cooking methods, with regional variations blending the ingredients and wok cooking of the Chinese with the spices used by Malays. In Singapore and Melaka, greater use of coconut milk is evident, while in Penang the sour tamarind is used more liberally.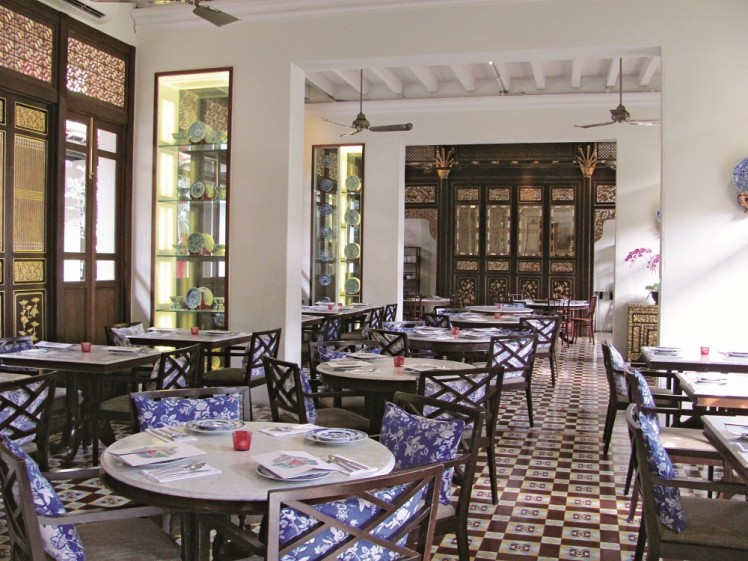 Nyonya cuisine's delicious flavours arise from the time-consuming pounding of spices on a flat stone slab to make a paste. The key ingredients are chillies, galangal, ginger, candlenuts, pandan leaves, tamarind, and shrimp paste.
Pearly Kee, a fifth-generation Nyonya, is the author of several Nyonya cookbooks, and she also conducts cooking classes. Drawing on the flavours of the past her recipes reflect her experience of growing up in a Peranakan household where skills in embroidery, sewing, and cooking are handed down from one generation to the next. Peranakans, explained Pearly, created customs, cuisine, and an entire lifestyle all very much still evident in Penang today, as I soon discovered myself.
Sampling Penang treats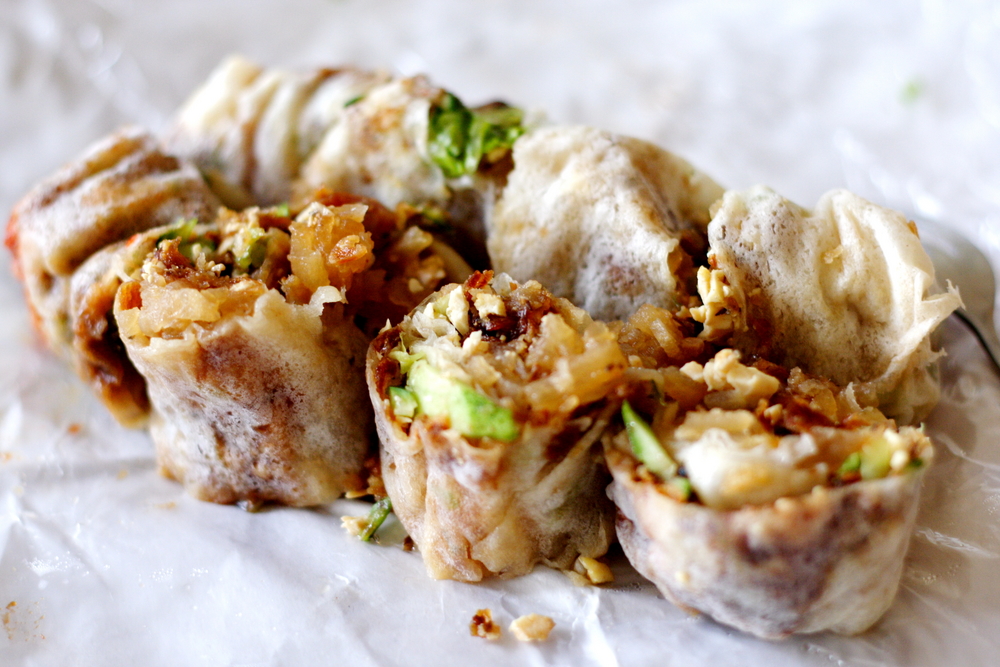 As we sped around George Town, I was introduced to Pearly's favourite popiah maker at Padang Brown, to a stallholder selling kueh (or kuih), a dessert of which there are many variations, to her favourite Nyonya restaurant, and to the shophouses of several streets including Armenian Street, with Pearly sharing the benefits of having a garden filled with herbs and spices. "It keeps you feeling young and healthy," she enthused.
But during the 1800s, it wasn't only the Peranakans who became prominent. Indian Muslims also settled and married Malay wives, and were known as Peranakan Jawi. The renewed interest in Penang tends to centre on the Straits Chinese, though the influence of the Peranakan Jawi is also evident. The vitality of Penang today, and much of its appeal, is largely attributable to the diversity of its inhabitants and the influences they had in shaping this endlessly fascinating island destination
Discover Penang's Peranakan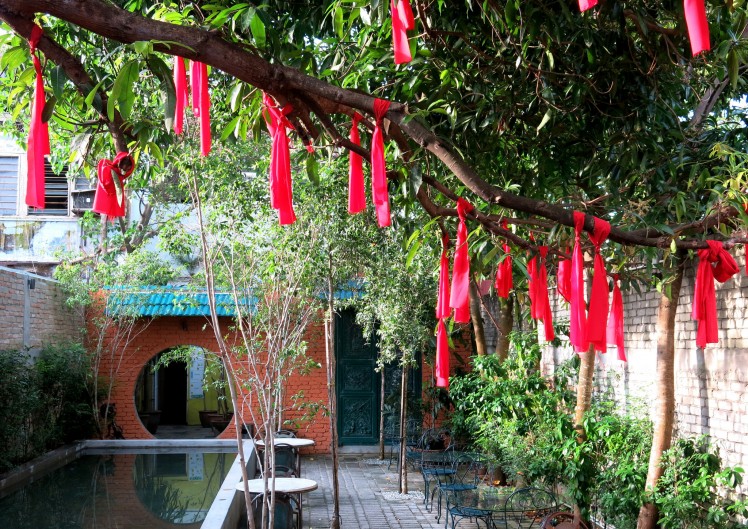 A visit to the Pinang Peranakan Mansion is highly recommended www.pinangperanakanmansion.com.my. The Museum Director, Lillian Tong, has written extensively on the Peranakan influence, including in their exquisite jewellery, in The Straits Chinese Gold Jewellery.
To sample some divine palm sugar ice cream, head to China House.
To learn more on Peranakan cooking, enrol in Pearly's Penang Cooking School with the informative, effervescent, and fun Pearly Kee or on Facebook.
Recommended is Peter Wee's A Peranakan Legacy – The Heritage of the Straits Chinese. Peter Wee is President of the Peranakan Association of Singapore and owner of Katong Antique House.
This article was originally published in The Expat magazine (May 2016) which is available online or in print via a free subscription.