Langkawi Island has much to offer in the local food and culture arena. Most visitors to Langkawi gravitate to the popular tourist areas and often limit their local food experiences there. Unknown to many that travel here, there is a dining cornucopia of local cuisine perhaps just around the corner; at the Pasar Malam or Night Market.
Langkawi has six Night Market locations, all open on a separate night of the week, allowing each part of the island to showcase its local residents' often age-old recipes. On the first visit to a night market the selection may seem overwhelming with the large variety on offer. It is recommended that you take your time and investigate all of the food vendors before digging in. Also, do not hesitate to ask questions, if you are unsure of what is being offered. Most of the vendors are excited at the opportunity to explain not only what they are preparing, but also are proud of the history behind the dish.
It is always helpful to have someone familiar with the local foods with you on your first visit to the Night Market. However, if on your own, don't let that stop you. Here is a sample of recommendations of what you will find at the market.
Quick bites and sweets
Satay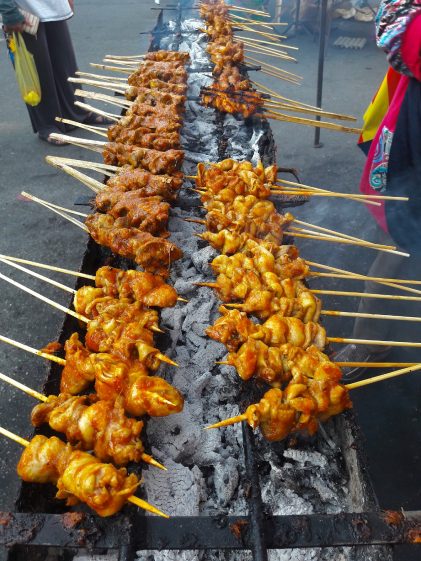 Satay is marinated chicken or beef grilled on a skewer and served with a peanut dipping sauce and hot chili. You could just buy one, but you'd probably want to just buy a dozen as they are small, succulent, and addictive!
Samosa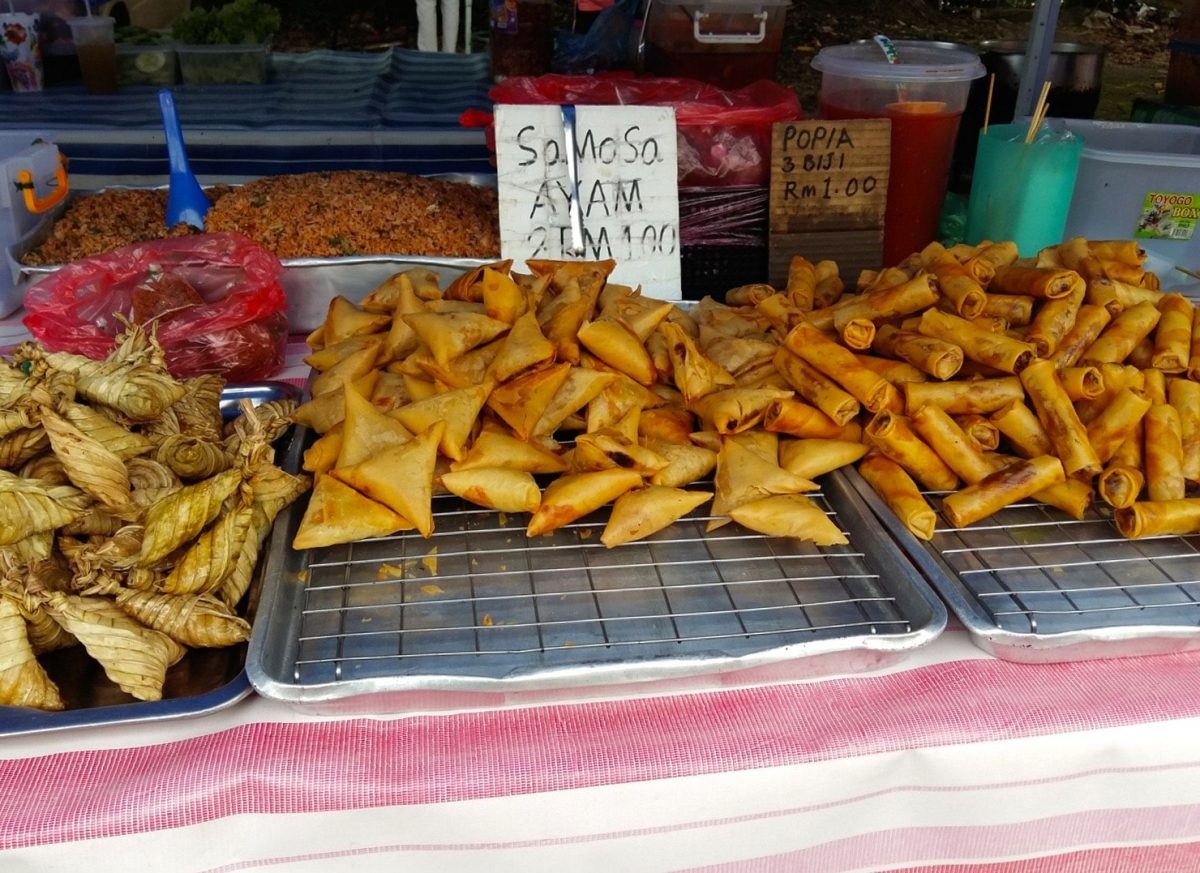 Like its cousin the currypuff, the triangle-shaped Samosas have an extensive cultural background. Although often similar to the currypuff in fillings and flavors, they are less spicy and have more varieties (including vegetarian). The pastry is also less flaky and more crispy than a currypuff. Fillings are normally made with potatoes and vegetables.
Dangai
Dangai is claimed to be originally from the state of Kedah, and for want of a better description, the equivalent of a Malaysian coconut macaroon. Dangai is made from glutinous rice baked with coconut and sugar and despite its rather dry outward appearance, it has a very moist centre.
Kuih Peneram/ Coq Meneram
Peneram is Malaysia's version of the donut. It is also called 'Coq Meneram' by Kedah locals. This South Indian specialty is made with rice flour and brown sugar cooked with Pandan leaves. It is delicious and can be a bit addicting. Made onsite from rolled out dough and a makeshift cookie cutter, the Peneram tastes best when fresh. Another local donut variation is Keria, which is made from Sweet Potatoes.
Putu Buluh
One of the night market staples is Putu Buluh (bamboo sweet rice), which is also called 'Indian Pop'. Originally of Tamil origin, ground rice and coconut are packed into bamboo cylinders and steamed creating a cylindrical shaped sweet that is served up with more grated coconut or palm sugar. Some hawkers use metal tubes or even paper cups instead of the traditional bamboo.
The Mains
Kerabu
Similar to ceviche, Kerabu Seafood Salad is made with lime-infused slices of raw fish, cilantro, tomatoes, onions, and plenty of chilies. There is a bit of confusion with the name, as Kerabu is also reserved for the Kelantan specialty, Nasi Kerabu, so if you see 'Kerabu' on a sign board there's a good chance that one or both dishes will be available.
Murtabak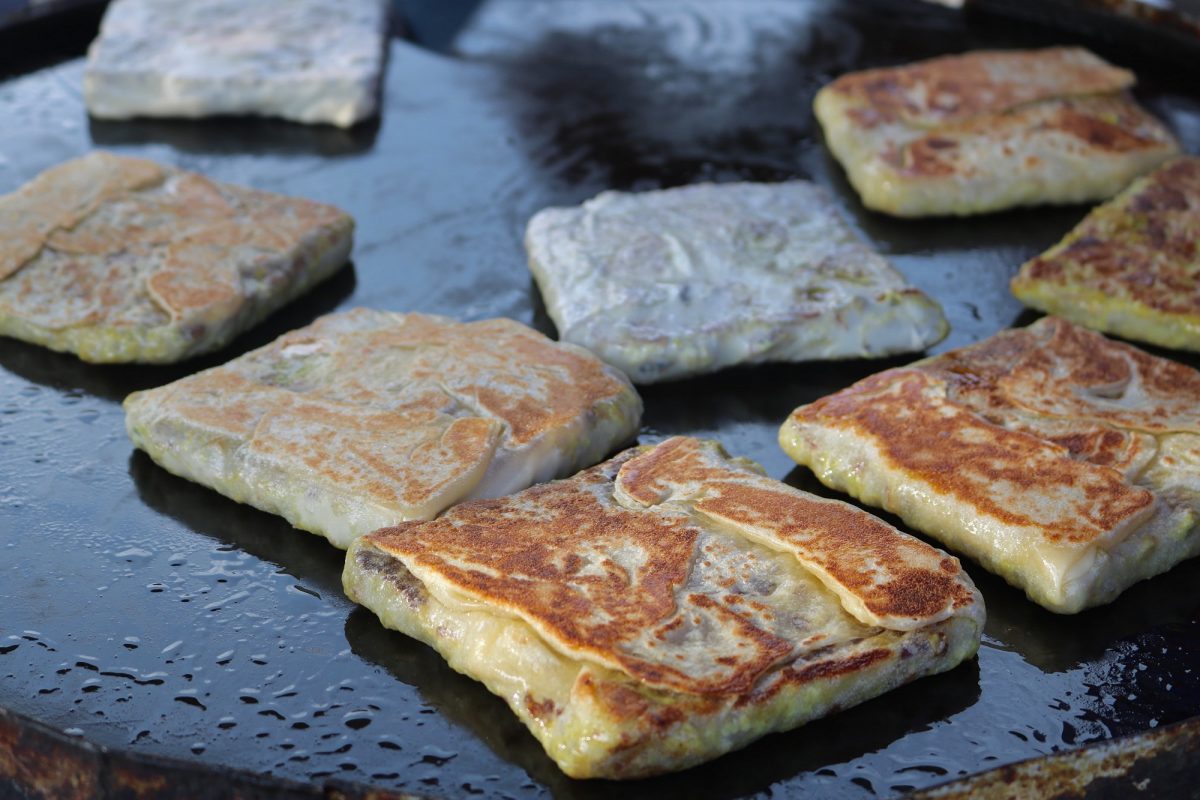 Murtabak is a popular street food that is sold at small hawker stands across Malaysia. A thin bread dough (as used in roti canai) is rolled out, an egg cracked and spread evenly across the surface, then filled with onion and chili and often a marinated mutton or chicken mixture. The bread is then folded into an envelope and cooked until brown on a hot griddle. It can be eaten hot or cold and is often served with a curry gravy. Some purveyors of murtabak insist that the secret to their murtabak success is the curry.
Ayam Bakar/ Ayam Goreng
The aroma of charcoal grills and woks filled with hot oil will greet your olfactory senses before you even enter the market. Chicken is marinated and grilled or battered and fried as well as served in various curries. The marinades range from a subtle coconut base to sweet and sour. Note that fried chicken is not all the same. The blend of spices and crispiness can vary greatly. If you see a darker and more-red result this means that the chicken can be very spicy with the chilies tinting the batter.
Pulut Panggang
Pulut Panggang looks similar to the popular otak-otak, a fish cake consisting of fish paste made from fish, tapioca starch, and various spices, such as chili, turmeric, and curry powder, wrapped in banana leaf and cooked over hot charcoal. However, they are actually made from glutinous rice, shredded coconut, dried shrimp, and spices. It has a much more subtle fish flavour.
Thirst Quenchers
Teh Bungah
If you have travelled through Southeast Asia you will be familiar with Chrysanthemum tea, but in Langkawi you may encounter it at the night markets under the name of Teh Bungah (flower tea) and is often served with festive flowers floating in the mix.
Asam Boi Limau Kasturi 
Asam Boi (pronounced somewhat like 'awesome boy') may be a slightly acquired taste for some. It is an unusual mixture of dried salted plums, lime juice, and sugar, which creates a refreshingly edgy flavor.
Jus Kelapa Laut (sea coconut juice)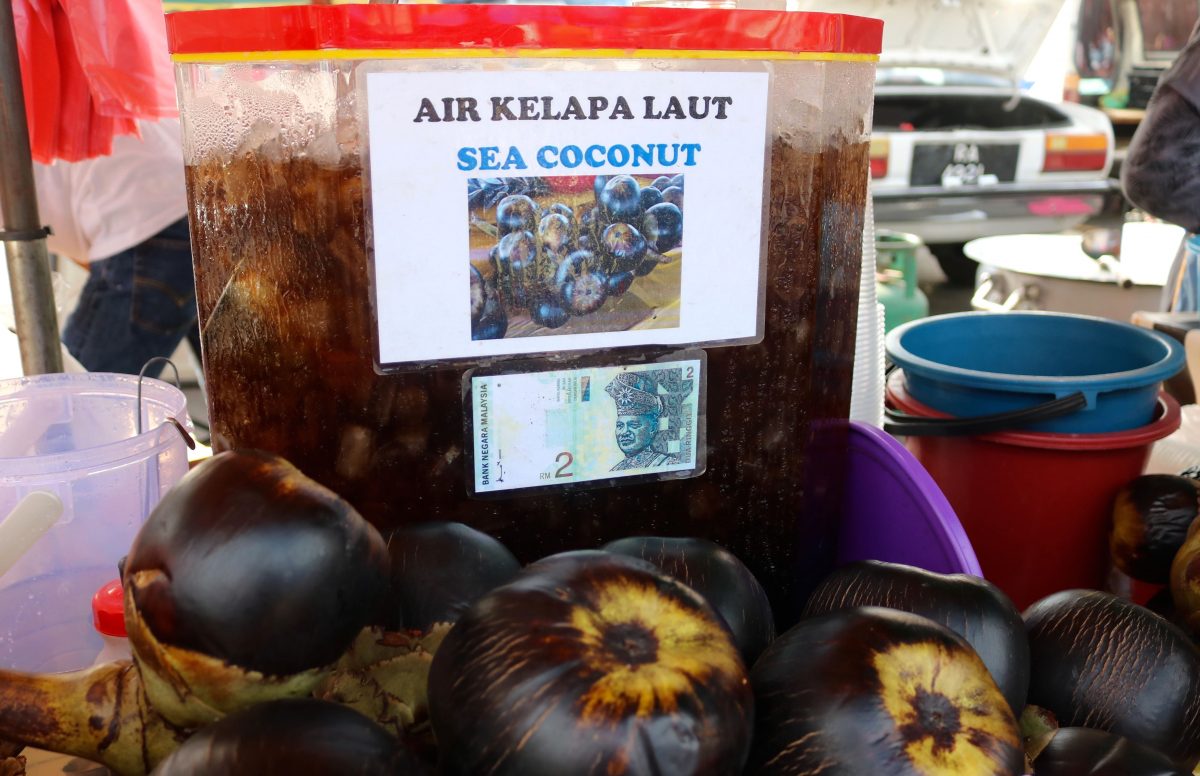 This unique beverage can be identified at the night market by its rich cola colour. Although it's referred to as Sea Coconut, it is actually the fruit of the Sugar Palm. The taste is sweet and tangy.
A visit to the Pasar Malam or Night Market is a both a culinary and cultural introduction to Malaysia. You have an opportunity to interact with local families continuing age-old culinary legacies and discover the warmth, generosity, and diversity of the Malaysian culture.
This article originally appeared in The Expat August 2018.