What's better than flying Business Class? We're not sure, but getting two tickets for the price of one sounds like a pretty good contender. Ethiopian Airlines is having a massive promotion for ex-Kuala Lumpur flights to their African online destinations. The deal is a two-for-one fare for the airline's Business Class seats. Applicable flight destinations include Addis Ababa, Accra, Cape Town, Johannesburg, Lagos, and Nairobi, besides 49 other major African cities.
The addition of these destinations is possible because of the collaboration between Ethiopian Airlines and the Zambian government. This partnership will relaunch Zambia Airways with the Zambian government owning 55% of the stakes and Ethiopian Airlines with 45%.
Group CEO of Ethiopian Airlines, Mr. Tewolde Gebremariam, said, "In line with our Vision 2025 multiple hubs strategy in Africa, we are very happy that the discussions with the Zambian government have been crowned with success. The launching of Zambia Airways will enable the travelling public in Zambia and the Southern African region to enjoy greater connectivity options, thereby facilitating the flow of investment, trade and tourism, and contributing to the socioeconomic
growth of the country and the region. As an indigenous and truly Pan-African airline, we firmly believe that it is only through partnerships among African carriers that the aviation industry of the continent will be able to get its fair share of the African market, currently heavily skewed in favor of non-African airlines, and play its rightful role in availing efficient air connectivity within Africa as well as with the rest of the world."
Have a look at some of the sweet fares below: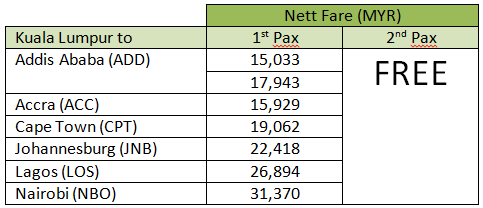 Terms and conditions:
Valid for travel ex-Kuala Lumpur to Ethiopian Airlines African online destinations.
2nd air ticket free for the same destinations. Two passengers must trael together throughout the journye.
Fare not combinable with any other promotions or discounts.
Promotion is applicable for D, J, and C fares.
Seat is subject to availability.
Fares are published in the system and subject to change without prior notice.
All other fare rules and conditions shall apply as per the system.
For more information, please email etkulsales@ethiopianairlines.com.my or call +603 9212 1819.