Photos by Sim Ewe Jin
Most people, if asked for their guess of the world's largest city, might name Tokyo, and indeed, the Japanese titan is the world's most populous metropolitan area. But when it comes to an actual city proper, Shanghai reigns supreme, its 24 million residents far outpacing Tokyo's 9.2 million. In fact, the only other single city that really challenges Shanghai when it comes to sheer numbers is that other powerhouse of mainland China, Beijing, with about 21 million.
Curiously enough, however, when you're in Shanghai, you don't usually feel that you're in a city with so many millions of people. The city is quite spread out, and even when we were in its more well-known areas, it never felt super-crowded. It's a modern, cosmopolitan city when viewed wide-scale, but definitely rewards the close-up views, too, with a look into genuine Chinese living. Here, the traditional and contemporary frequently coexist side-by-side, and Shanghai seems to constantly reinvent itself, too. People have said that if you were to visit Shanghai only once every 20 years, it would feel like a new city every time.
We stayed in the delightful Jing'an district, home to parks, a magnificent temple, posh hotels, chic restaurants, and some of the best shopping in the city. About an hour from Shanghai's Pudong Airport, and just a few kilometres from the famous Bund riverfront area, Jing'an proved to be a fantastic base for our daily excursions.
Jing'an highlights
Though a number of well-known international chains are in the immediate vicinity, we chose to stay at a boutique hotel called The PuLi, which had come highly recommended to us. It turned out to be a good choice, as the property boasts not only beautiful contemporary architecture and design, but is also home to the excellent Anantara Spa and the Michelin-starred restaurant Phénix. Many of the lovely rooms at the hotel overlook the expansive Jing'an Park, which is adjacent to the property, and this quickly became a favoured spot for morning strolls after breakfast. We found our morning meals at The PuLi to be quite good, as the modest, high-quality buffet spread was complemented by an à la carte menu featuring both Western and traditional Chinese fare.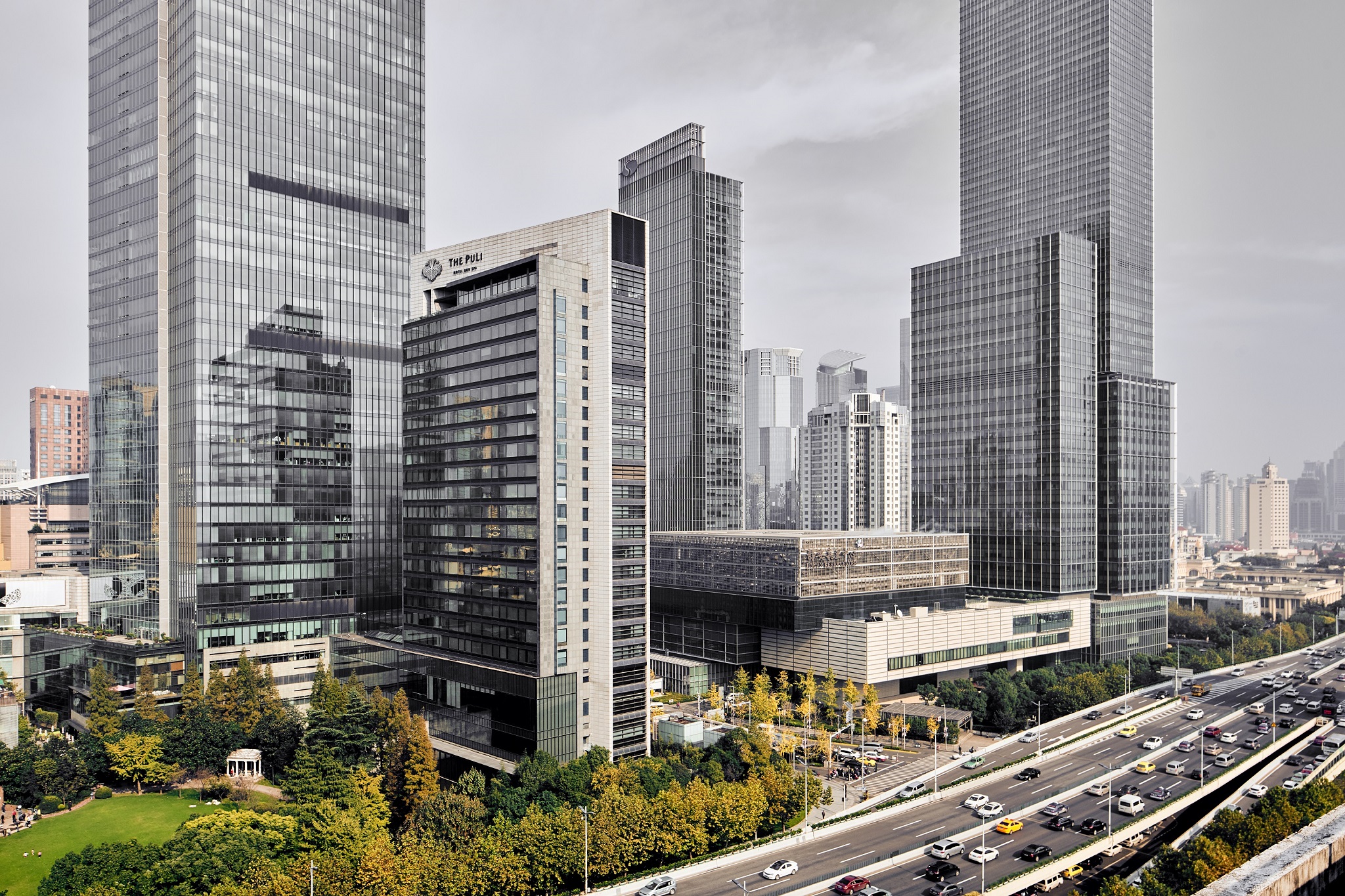 One unique concept at the hotel which we enjoyed tremendously was its 'deconstructed' club lounge approach. Rather than having a specific, exclusive lounge, guests staying on club floors were presented with club benefits at the various venues in the hotel, including a free-flow mini-bar located in the room itself. We particularly enjoyed the evening offerings, with a curated range of unlimited cocktails, wines, and delectable edibles available from a special menu from 5 to 8pm. Afternoons and early evenings were enjoyably spent on The Terrace, the brilliant outdoor garden that was clearly a popular focal point for guests, with its comfy loungers, laid-back vibe, and great service by the side of the hotel's mesmerising reflecting pool.
Part of the appeal of The Terrace was certainly down to the time of year we were there. Spring is a lovely time to visit Shanghai, and we were captivated by the flowers and blossoms lining the streets and sidewalks around the Jing'an district. Temperatures rose to the low 20s by day and eased to mid-teens during the night, so if you've been to Cameron Highlands and like the feel, you'd likely enjoy Shanghai in the springtime. During the weekend, skies were generally blue and clear, with a bit of haze creeping in on weekdays, no doubt from the many commuters driving to their offices.
Brunch and the Bund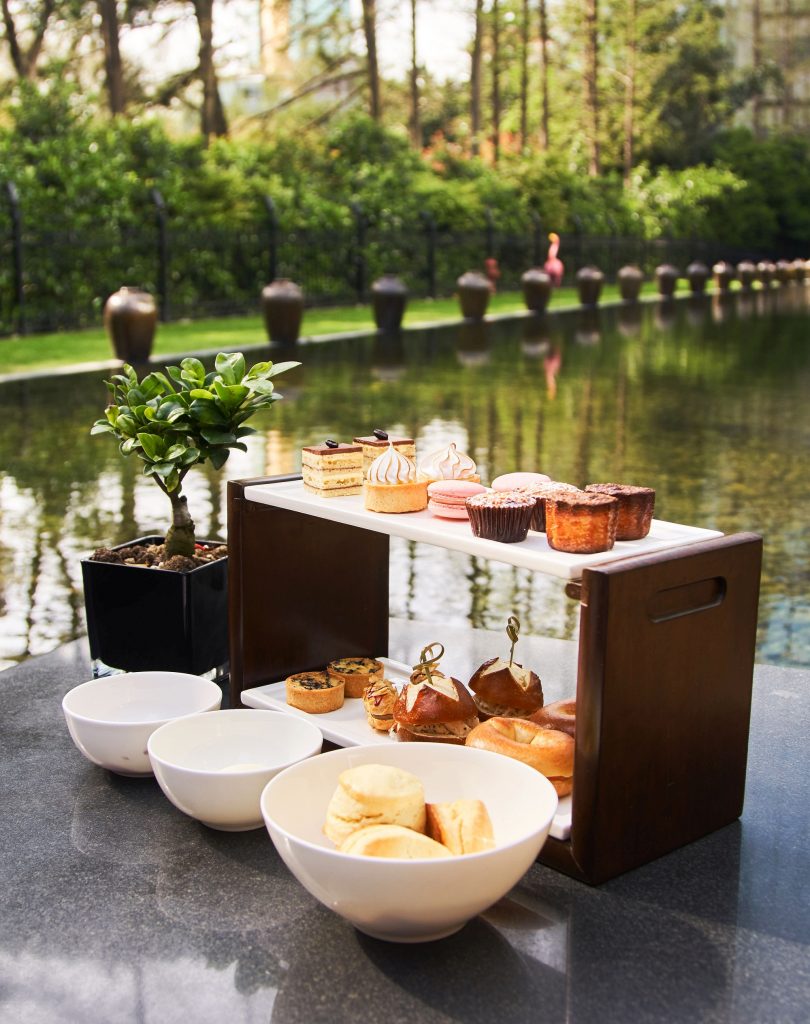 Jing'an is not far from The Bund, either, and Shanghai's excellent public rail system, the Metro, has a station very near The PuLi, and it was just three stops from The Bund. We couldn't resist heading to the famed riverfront district on Sunday to catch the exceptionally popular bubbly brunch at The Westin Shanghai. A little research online before the trip suggested that this was the place to be for brunch on Sundays, and the experience absolutely backed it up. The place was packed, but the team at The Westin are clearly used to it, because the food was great, the Veuve Clicquot was poured freely, and the service was top to bottom excellent. The brunch was complemented by a live mini-orchestra and a succession of various entertainment at times, including a couple of arias belted out by talented opera singers, a pair of duelling violinists, and an impressive display of Chinese acrobatics. If you are in Shanghai and your visit encompasses a Sunday, do yourself a favour and book a table for brunch at The Westin.
After our thoroughly enjoyable brunch, we explored around The Bund a bit more, taking in the sights. It was still daylight as we left The Westin, of course, but the area really comes into its own at night. The Pudong skyline looks like something out of a science fiction film in a way, with the varied colours and unusual shapes of the buildings and towers all converging into a uniquely iconic skyline. We finally headed back to The PuLi hotel, impressed once again by the efficiency of the Metro. Fares are inexpensive and it's surprisingly easy to navigate as most signage (and even the announcements) are in both Chinese and English.
The Shanghai Metro is even more impressive as you learn more about it. Currently, there are 16 lines in operation with a staggering 393 stations, and the system delivered 3.53 billion rides in 2017, with 10 million people using the system on an average workday. The huge transit network is still expanding, too, and by 2025, every location in the entirety of central Shanghai will be within 600 metres of a Metro station. The most well-known component of the system, perhaps, is the Shanghai Maglev train, the fastest commercial electric train in the world. Though the maglev line only covers about 30km, the train accelerates to 350 kph in two minutes, and has a top normal operating speed of about 430 kph. Digital indicators in the carriages display the current speed of the train. The maglev train, likely because of its incredible speed, is a bit of a tourist attraction in its own right, and though ticket prices are rather high relative to regular train fare in Shanghai (a return trip on the maglev costs ¥80, about RM50), it's still a ride worth taking.
Good food is plentiful in and around Jing'an. If you're in the mood for a good steak, 1515 West is a fine choice, boasting not only well-prepared steaks, but a nice ambiance and a good selection of creative cocktails. If you want something really local (and tasty), visit Shanghai Haidilao Hot Pot Dian on Beijing West Road, where you'll enjoy mainland China's version of what's called steamboat here in Malaysia. Moderate prices, great views of the city, and excellent service, though there can be long waits for a table at peak times, so plan accordingly. For fine dining with a casual flair, we didn't even have to leave our hotel, and indulged in an artful procession of chef-curated dishes at Phénix restaurant, located on level 2 of The PuLi (one Michelin star).
Shanghai is a sprawling, cosmopolitan city, at once delivering rich history and culture and modern conveniences and luxury. It certainly deserved a longer stay than we were able to book, but the visit was a good introduction to one of China's most appealing city destinations.
Travel tips
Most visitors to China require a visa, which is a straightforward but admittedly onerous two-visit process at the Chinese Visa Application Service Centre in Kuala Lumpur. Visit visaforchina.org/KUL_EN for details.
Mainland China blocks a number of internet portals and sites, including Google and Facebook. This means you may have difficulty connecting if you use Gmail, Instagram, YouTube, and even WhatsApp. A personal VPN is one way around this, and we suspected our hotel uses a VPN for its Wi-Fi, as we were able to access much of these sites while on their network, though it wasn't always fast or reliable. Another way around it is to use the Flexiroam SIM, which not only provides reliable data roaming while in China (and other locations), but effectively circumvents their blocks, too. Learn more by searching for "VPN for China" or visiting flexiroam.com.
Shanghai is in the same time zone as Malaysia; flight time from KLIA to Pudong International Airport (PVG) is 5.5 to 6 hours.
To learn more about The PuLi, visit thepuli.com.
For information on The Westin's Sunday Brunch, visit westinshanghai.com/dining-sunday-brunch.