While Sabah's capital city of Kota Kinabalu offers many reasons to visit, Petra O'Neill found that its appeal extends well beyond the city limits with a stunning natural environment, rich cultural heritage, and abundance of wildlife all ripe for exploration.
Perhaps it's a tiger leech," said our guide Ryan, unperturbed as he spun his index finger nonchalantly around his
belly button to dislodge whatever was embedded there. I was in the Danum Valley Conservation Area, a vast wilderness area and one of the world's best places for viewing wildlife, with over 275 bird species and 110 mammal species, the latter category including the rare Sumatran rhinoceros, pygmy elephants, clouded leopards, gibbons, proboscis monkeys. The famed orang-utans are also represented here – including a large male called Abu who lives near the lodge where I was staying.
The rainforest was damp and cool, and for two days, Ryan led us on hiking trails to waterfalls for refreshing swims, to a tree top canopy suspended over the forest, and along escarpments for sweeping views of the river and valley below. We also saw many species of orchids, pitcher plants, ferns, begonias, and plants used by indigenous tribespeople as medicine.
Nature near and far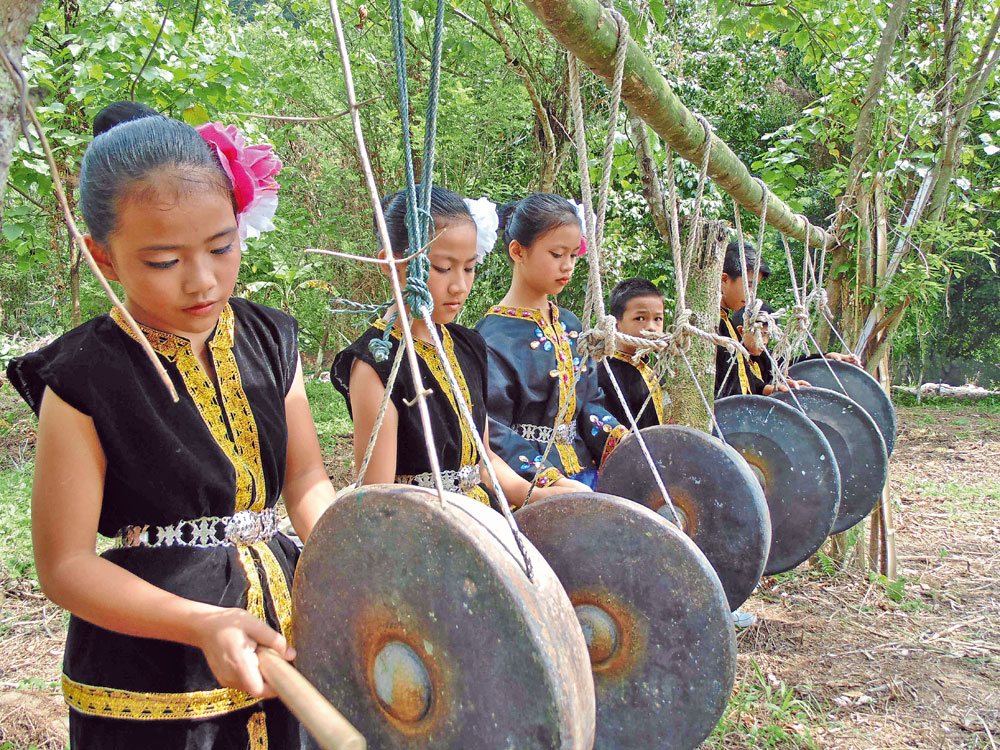 Danum Valley is just one of many nature-based excursions that you can join from Kota Kinabalu. Equally remarkable is the journey by speedboat along the mangrove-lined Kinabatangan River to Sukau: at 560 kilometres, it's Sabah's longest river travelling along lowland rainforest to view crocodiles, proboscis monkeys, orang-utans, and pygmy elephants grazing along the river's edge, the area having the largest concentration of such wildlife in Malaysia.
Closer to Kota Kinabalu, you can take a day tour to visit the Sepilok Orang-utan Rehabilitation Centre, a 4,500-hectare reserve near Sandakan for orangutans rescued from illegal hunting or found at logging sites. The gregarious primates are taught survival skills by a dedicated team of naturalists and eventually returned to a protected rainforest habitat. Or you can view baby orang-utans at the Shangri- La's Rasa Ria Resort, a property that facilitates rehabilitation programs for endangered species in collaboration with the State Wildlife Department in the resort's expansive nature reserve.
Proboscis monkeys, Silver Leaf monkeys, and crocodiles may be sighted on a cruise through the heart of the Klias Wetlands, a 2.5-hour drive from Kota Kinabalu. At dusk, hornbills and egrets fly across the sky, and if conditions are right as the light fades under the thick forest cover, the riverbank is magically transformed,
luminous with the twinkling glow of thousands of fireflies.
Cultural authenticity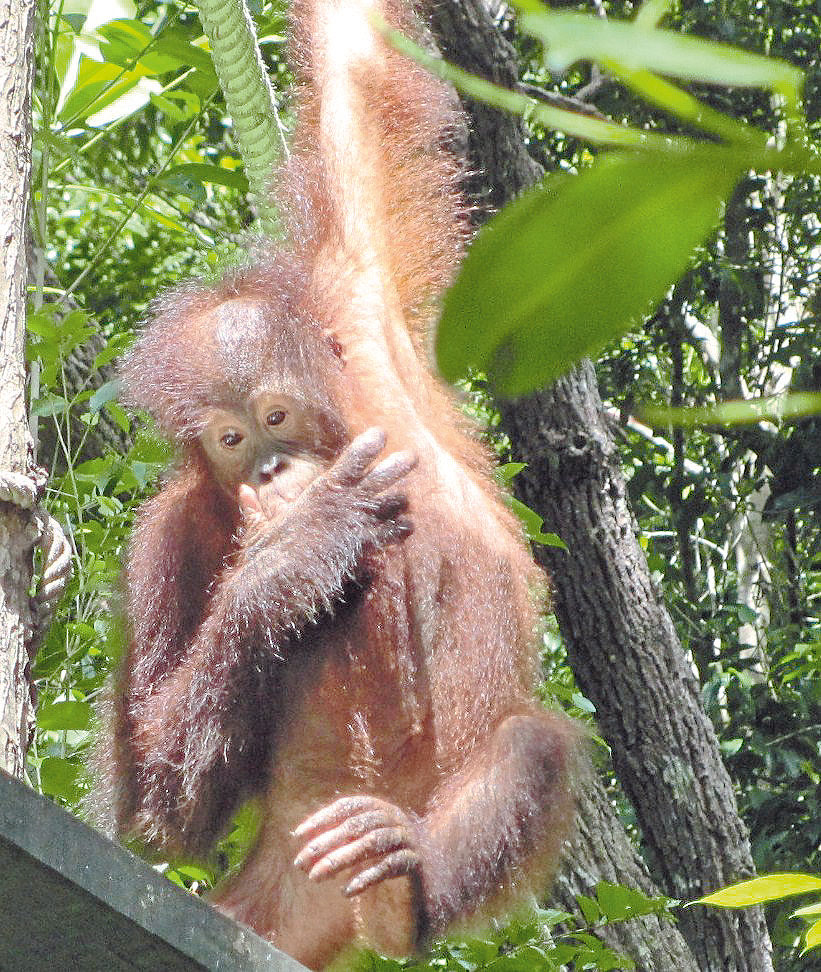 With numerous indigenous tribespeople living in Borneo, including those that live in traditional longhouses, it's not surprising that tour operators offer cultural immersion tours where you can stay overnight, such as at a Rungus longhouse at Kudat, located at the northernmost tip of Sabah. Before entering a longhouse, you may be welcomed by the Headman, offered a heady brew of rice wine and a plate of banana fritters, given a performance by dancers in elaborate costumes and music of banging cymbals, drums, and xylophones, and shown how to make fire with bamboo.
Afterwards, at the longhouse I visited, I sat with village elders as they puffed fat cigarettes and told tales about the headhunting days, which weren't all that long ago. The hills and coastal plains surrounding the market town of Tuaran are home to Dusun tribespeople. You can also join a homestay tour with bikes supplied to ride past villages, forests, orchards, rubber plantations, and rice paddies along quiet roads, crossing rivers on suspended bridges and finishing at the market town of Kota Belud.
Stay and play
For adventure sports, there is no shortage of activities, including shooting the rapids on the Kiulu River or more challenging still the rapids at Padas River. You can trek to Crocker National Park or scale the heights of Mt Kinabalu, one of Southeast Asia's highest peaks at 4,095 meters. The Kinabalu Park is a UNESCO World Heritage-listed site with an incredible biodiversity of flora and fauna. Numerous trails are found within the park and cycling tours skirt around it, commencing in the Kiau Valley. I left the challenge of the summit climb to others, opting instead to experience the traditions of a bygone era for myself.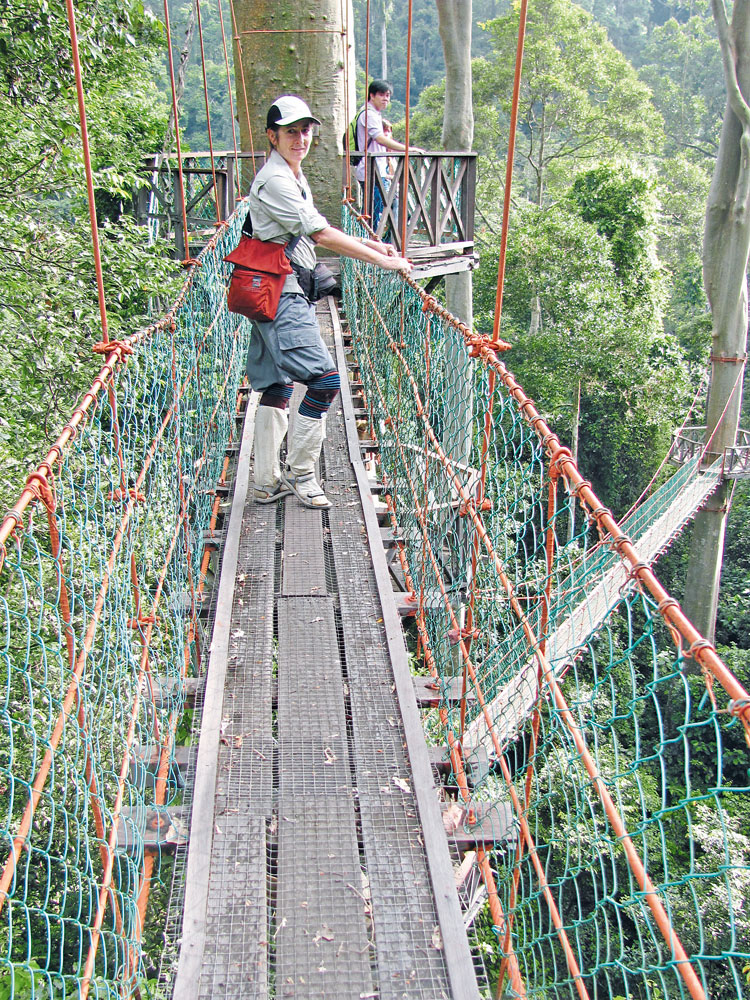 The North Borneo Railway follows a rail line begun by the British in 1896, boasting restored carriages and a vintage steam locomotive that is one of the last in the world fuelled by wood. The whistle blew and with windows open, we passed by lush tropical scenery, paddy fields, mangrove swamps, and beaches visiting a temple and Tamu along the way.
An integral part of Sabah society, the Tamu, or market, is where you can sample fresh local produce and buy handicrafts. Renowned market towns include Kota Belud that specialises in pandan-flavoured cakes, Kundasang Market with rows of fresh vegetables, fresh flowers, and honey, and in Kota Kinabalu on Sundays, the Gaya Street Fair. Soon after a bumpy 20-minute speedboat ride from Kota Kinabalu, I was snorkelling at Tunku Abdul Rahman Marine Park, which comprises five small islands with beaches, bays, and sandy coves fringed by coral reefs. The waters were busy with tourists wearing wetsuits and life jackets, and clinging onto brightly coloured floatation noodles, so I escaped the crowds at Gaya Island to follow one of several hiking trails through a lush rainforest.
Kota Kinabalu is a compact city with sights that can be explored easily on foot from a lively waterfront promenade where weatherworn fishermen sell the day's catch to Gaya Street and Australia Place lined with restaurants, cafés, and bars. Sabah Museum, the City Mosque, and Atkinson Clock Tower are also worth a visit, and in the evening you can choose from many open-air hawker stalls.
From longhouse to luxury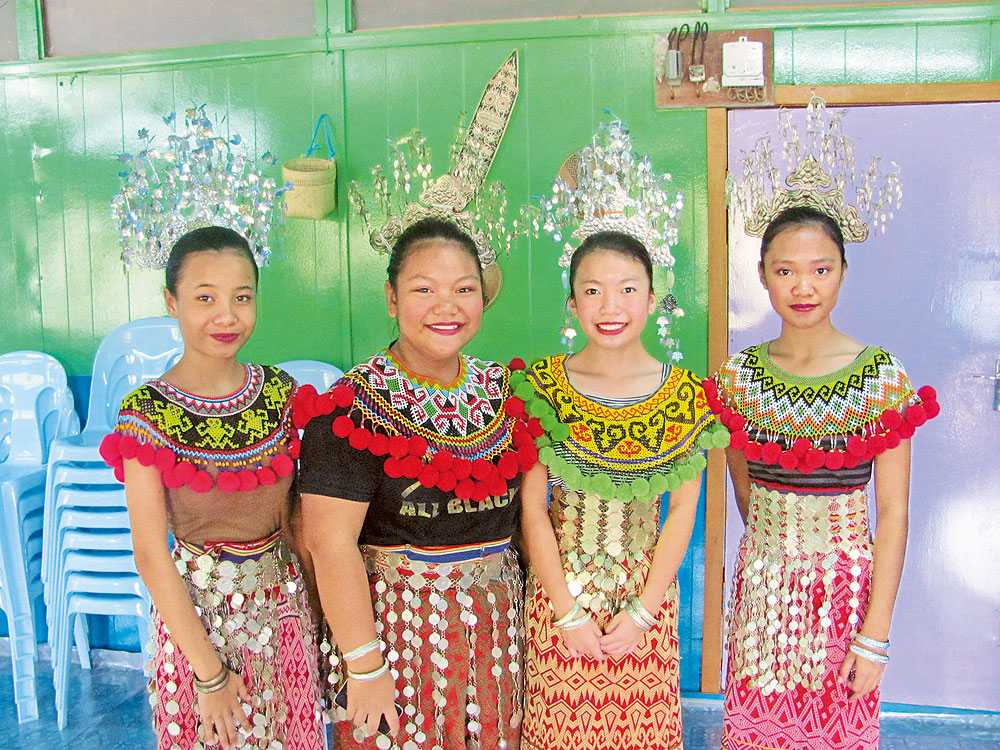 By late in the day, however, my stamina had reached the end of its tether and I all but certainly looked a fright. Along Jalan Tagu, however, I found what I was in need of: the De Art School of Hair Dressing. where my hair was washed twice over and puffed and coiffed into shape. Off came the khaki, leech socks, and hiking boots to be replaced by gold stilettos and lots of bling. It was time to set sail from Kota Kinabalu… in style.
From the rigours of overland travel by shooting the rapids, cycling along bumpy dirt roads, catching jeeps and
local buses, I now continued to explore Borneo's coastline onboard a cruise ship that made travel altogether too
cushy. From the upper deck with an orange and pink tropical evening sky above us, we headed out across the South China Sea, with me clutching a chilled martini, you know… to enhance the moment. The sail-away onboard the Silver Shadow provided the perfect way to depart from one of the most dramatic, diverse, and exciting destinations you will ever experience… and you don't even need to leave Malaysia to do it.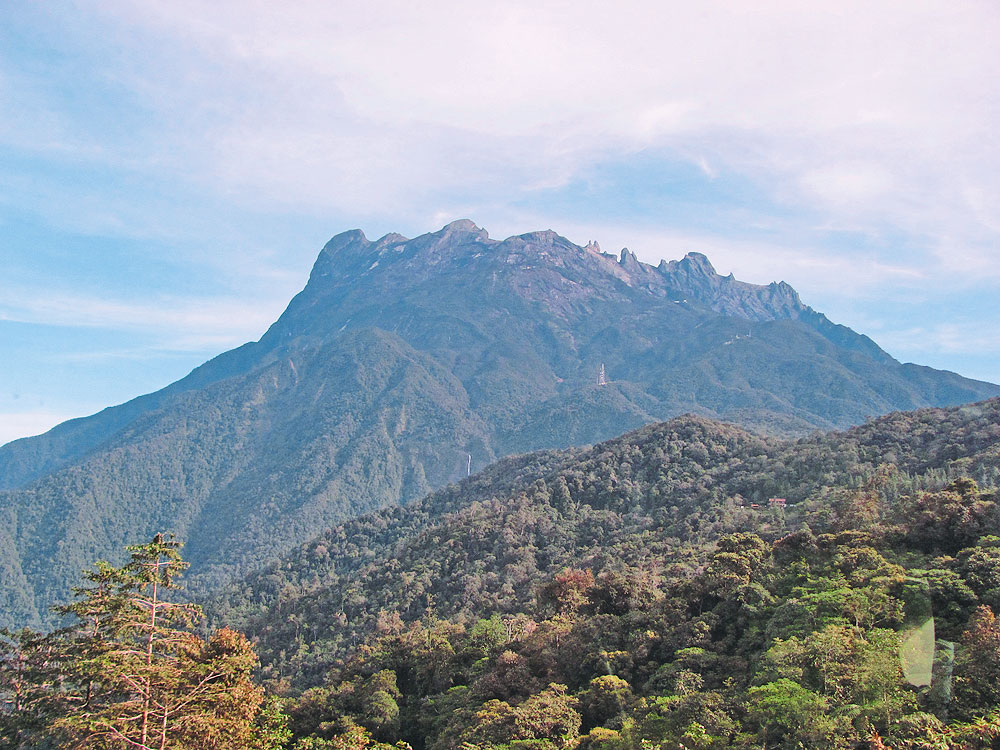 Getting there
Fly with Malaysia Airlines, Malindo Air, or AirAsia direct to Kota Kinabalu.
Getting around
Borneo Eco Tours offers a wide range of ecologically sustainable tours. The North Borneo Railway operates twice weekly
Where to stay
Just north of Kota Kinabalu, the Shangri-La's Rasa Ria Resort offers activities with an environmental focus, whilst their Tanjung Aru Resort and Spa is set in a tropical garden by a beach.
The Hyatt Regency Kinabalu is centrally located with views overlooking the South China Sea.
The Le Meridien Kota Kinabalu offers stylish, refurbished rooms and is in KK's central business district.
Borneo Rainforest Lodge provides a unique rainforest experience. The guides, chalet accommodations, and food are all outstanding.
The multi-award-winning Sukau Rainforest Lodge is built in a traditional architectural style overlooking the river.
Silversea's Silver Discoverer has an itinerary departing November 23, 2017 that includes visits to Camp Leakey to visit orang-utans. In October 2017, the Silver Shadow will visit Brunei and Kota Kinabalu.
A version of this article was published in Aeropolis (June/July 2017) which is available in print or online via a free subscription.