With the smallest population of any ASEAN country bigger than a postage stamp – sorry, Singapore and Brunei, we're looking at you – Laos is about as close to being the region's undiscovered country as you could imagine. It doesn't have ancient temples like Angkor Wat or Borobudur to draw history and archaeology buffs, there are no beaches (as it's ASEAN's only landlocked nation), and there are no glitzy cities or shopping meccas anywhere within its borders. Y
ou might think tourism would be a hard sell in a place like Laos, and in some regards, you would probably be right. And yet, this little-known land pulls in visitors by the planeload, with the country's nascent tourism industry recording impressive double-digit growth year-on-year in every year since 2010 except one. In less than one generation, the tourism sector has mushroomed exponentially, from just 80,000 international visitors in 1990 to over two million in 2010. And since 2010, that number has continued to soar, with the latest data showing a whopping 4.7 million tourist arrivals in 2015, a staggering increase of nearly 60-fold in just 25 years.
City of heritage, cradle of comfort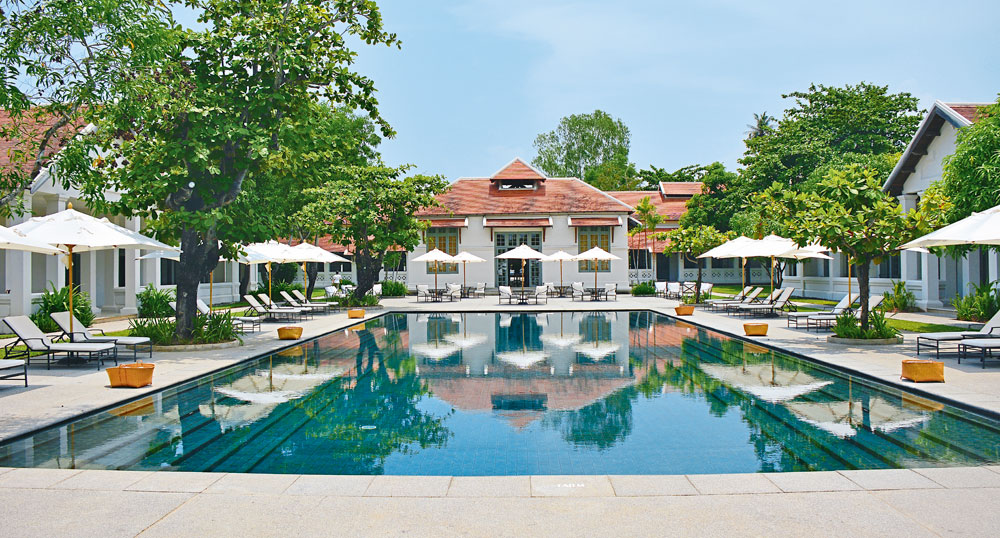 Looking at a map, Laos is shaped somewhat like a palm tree and in the centre of its 'palm fronds' region is the small city of Luang Prabang, the former royal capital of Laos. In 1995, a number of the adjacent villages comprising the city were listed by UNESCO as the Town of Luang Prabang World Heritage Site, noted for its well-preserved architectural, religious, and cultural heritage, a blend of rural and urban developments over several centuries, including the French colonial influences during the 19th and 20th centuries. Unsurprisingly, the UNESCO listing contributed mightily to increasing the country's tourist appeal.
Visiting Luang Prabang can be done on a shoestring budget, in bespoke luxury, or anywhere in between. Indeed, during the peak season, rooms costing several hundred US dollars per night are startlingly easy to find, a bit of a shock in this laid-back and unassuming town of some 55,000.
For the discerning traveller, properties by Belmond, Sofitel, and a handful of independent operators offer comfort and panache in equal measure. But for understated luxury, discreet service, and marvellously spacious, well-appointed suites, the indisputable queen of places to stay in Luang Prabang must surely be amid the manicured grounds of Amantaka. Located in the heart of the town's 'peninsula' formed by the confluence of the Khan and Mekong Rivers, Amantaka masterfully reflects its tranquil and relaxed surroundings.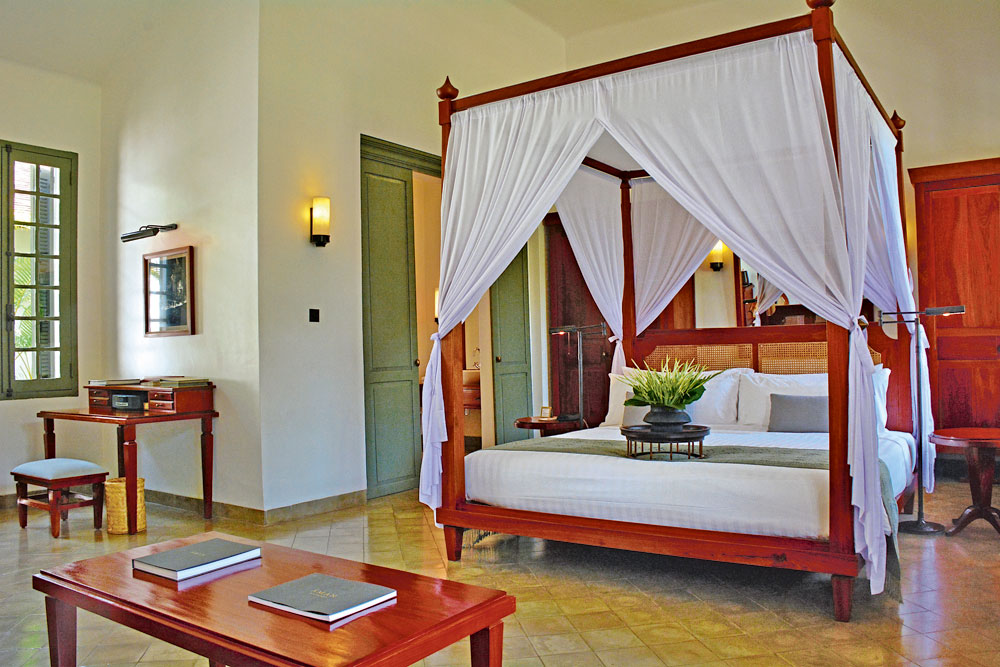 The resort, with subtle French colonial styling, long shaded verandas, and louvered doors and window shutters, is a quiet and verdant haven with beautifully landscaped grounds, a stunning main pool, and a sense of place that must be experienced to be fully appreciated. As soon as guests arrive in the Amantaka enclave, the cares of the outside world simply disappear. After a short 15-minute transfer from the airport, we arrived to the warm smiles of Resident Manager Ratih Handayani, a friendly and gracious manager cum hostess who has been with Amantaka for several years, and experienced General Manager Donald Wong, who cordially welcomed us to our 'home away from home.'
Boasting a superlative spa on one side of the pool and a fitness centre and yoga studio on the other side, the resort silently invites guests to while away the heat of the afternoon poolside or in the pampering hands of Amantaka's spa therapists. A good workout in the gym is another option, but with the whole of Luang Prabang accessible on foot or by bicycle, exercise is easy to come by here, and apart from those early afternoon hours when the tropical sun is at times merciless, walking around town is remarkably easy, comfortable,
and enjoyable.
What to see, where to eat
Following an outstanding leisurely breakfast by the Amantaka culinary team under the guidance of French head chef Charly Gomes, we set out on foot to explore the UNESCO heritage area, which is quite compact. There is plenty to see and do along both rivers – the Khan River lazily joins the much larger Mekong in the heart of Luang Prabang, and life is generally dictated by the rise and fall of these rivers. During the wet season, the Mekong features whirlpools and eddies, so fast and high are its waters, and even when we were there, when the rivers were much lower, the current was easily apparent. Fishermen cast their nets standing in the shallow waters near the banks of the Khan River, while locals trundled back and forth along dubious-looking bamboo bridges, which must be rebuilt every year after the rainy season, as the much-higher river simply wipes out the bridges.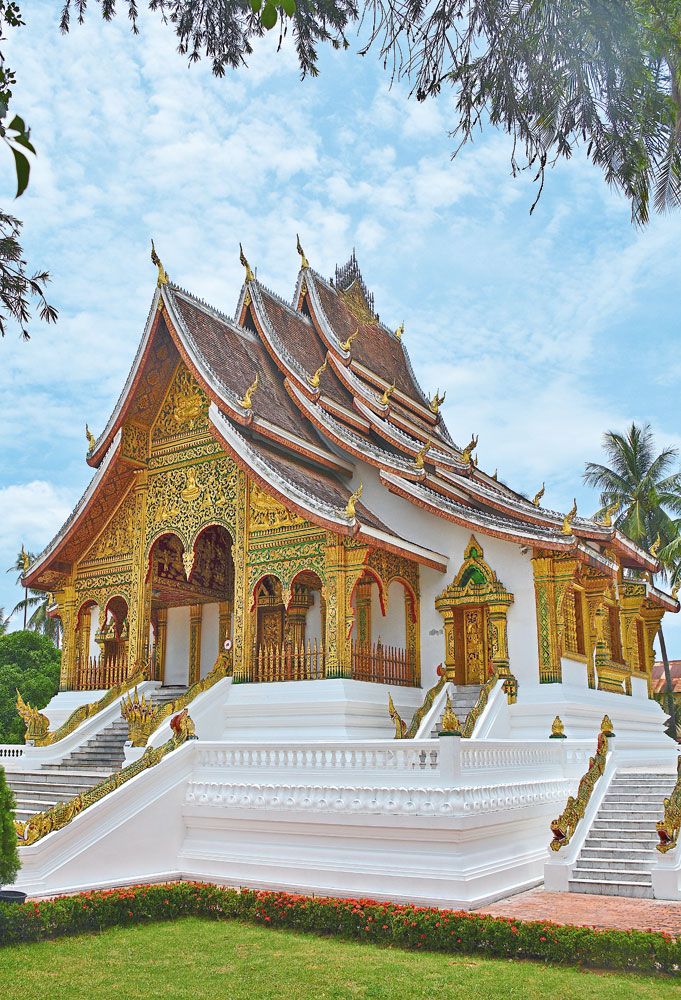 We visited a number of temples in the area, from the ancient and simple to the ornate and intricate, a reflection on the area's Buddhist heritage, though some temples paid homage to both the Buddha and the gods of Hinduism. Monks and their young novices seemed to be tucked into every crevice, never hard to spot in their vibrant saffron robes, and a spirited climb up Phou Si Hill in the heart of town afforded us with sweeping panoramic views from its 150-m vantage point – and offered another spate of beautiful temples and statues to enjoy along the way.
With a well-established tourist trade in Luang Prabang, restaurants and cafés are in ample supply. We especially enjoyed some of the roadside vendors' fare, such as both fresh and deep-fried Lao spring rolls and 'yellow pancakes' – which are actually thin wok-cooked omelettes bursting with fresh vegetables and herbs. Restaurants abound, and we found ourselves particularly fond of Café Toui, run by a local chef and featuring a simple menu with outstanding food and a friendly team of journeyman servers delivering earnest if occasionally uncertain service.
Just next to Toui's is Chez Matt, an expat-run wine bar with an appealing ambiance and lovely range of wines, along with cheese and charcuterie platters. Luang Prabang is also noted for its sausages, made from both buffalo and pork, and we enjoyed the sampler platters at the riverside Tamarind restaurant, which also runs a well-attended Lao cooking school.
Evening pursuits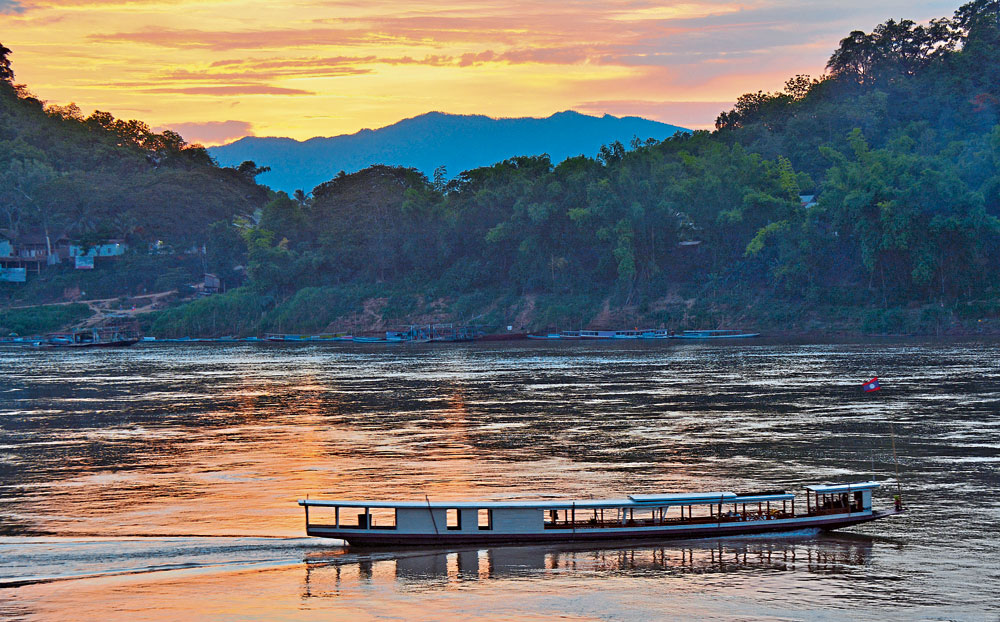 As the afternoon gives way to evening, the night market springs up along Sisavangvong Road, with vendors spreading out a veritable tsunami of clothing, textiles, souvenirs, jewellery, and other goods every evening. The road is closed to traffic during this time, with the market well underway by 5pm and in full swing by 6pm. Though
it's often said to run until 11pm, the reality is, apart from the high season when business is booming, many vendors have had enough well before then and are packed up by 10pm, so it's advisable to get any desired shopping done by 9pm. Like most markets in the region, you're expected to haggle quite a bit here, too.
Sunset cruises on the Mekong River are popular, and with good reason. We arranged ours through Amantaka, and as expected, everything was to the highest standard with a lovely spread of food and drinks, and a personal English-speaking guide to accompany us as we motored up the river against the current for half of the journey, then cut the engine and drifted down with the current for the second half as the sun slipped behind the surrounding mountains. The Mekong is an impressive river even during the dry season, and a cruise – at any time of day – is a memorable experience on this life-giving regional powerhouse of a waterway.
As always, day or night, returning to Amantaka was a sheer pleasure. Strolling along the peaceful grounds to our suite, enjoying the resort's well-stocked library, taking in the immaculate courtyard surrounded by graceful buildings housing the resort's 24 suites. And the accommodations – we booked the Khan Pool Suite – were nothing short of perfect, boasting an abundance of space including a separate living room area, Bose sound system, generous bathroom with separate rain shower and soaking tub, and a sprawling landscaped private garden with an ever-inviting 5×9-metre swimming pool.
In Luang Prabang, nature, spirituality, and a rich heritage come together to create a place of serenity, charm, and wonder in a country that was once Southeast Asia's best-kept secret, a title Laos has certainly been shedding in recent years. At the heart of this UNESCO World Heritage town lies Amantaka, a beguiling retreat of uncompromising grace and beauty that offers an exclusive experience for even the most demanding of travellers.
Travel tips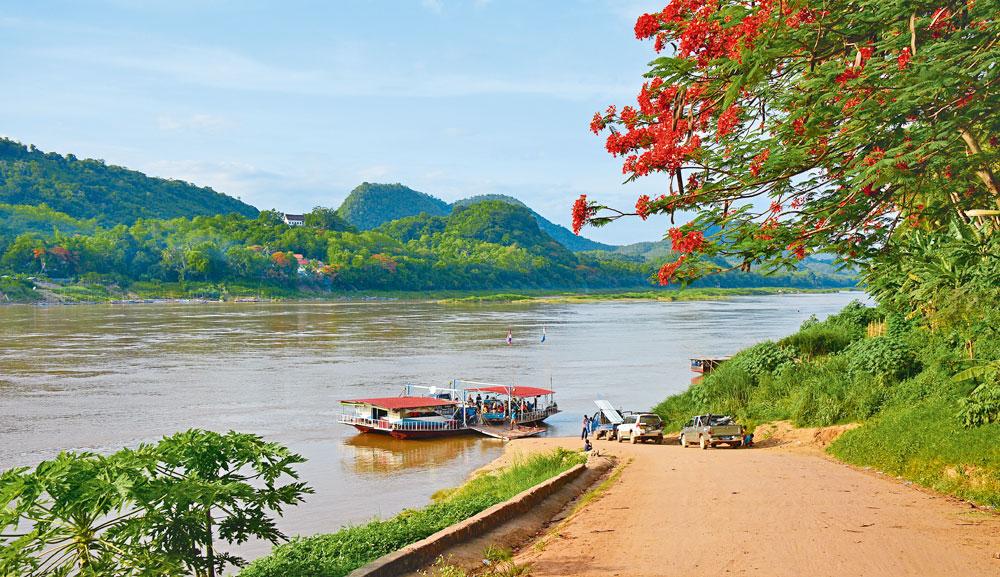 AirAsia flies direct from Kuala Lumpur to Luang Prabang four times a week, the only carrier to do so from Malaysia. Flight time is under three hours; Laos is one hour behind Malaysia. Other options include flying to Bangkok or Vientiane and taking a connecting flight.
ASEAN nationals are granted a free 30-day visa upon entry. Most other nationals can purchase a visa on arrival for US$36. An additional $1 charge is levied if you do not have two passport sized photos to submit. Ensure you have a blank page available in your passport and at least six months' validity remaining.
The best currencies to bring along for changing are the US dollar and the Thai baht. The Malaysian ringgit is exchanged at a very unfavourable rate and the Singapore dollar doesn't fare much better. The US dollar and Thai baht are exchanged at or near bank rates, which is excellent. ATMs are available; the BCEL machines are your best bet, but a surcharge is added for withdrawals, in addition to any fees your home bank may impose. For this reason, it's generally advisable to bring cash with you to convert at one of the several money changers located along the Night Market Road.
A version of this article was published in Aeropolis (June/July 2017) which is available in print or online via a free subscription.